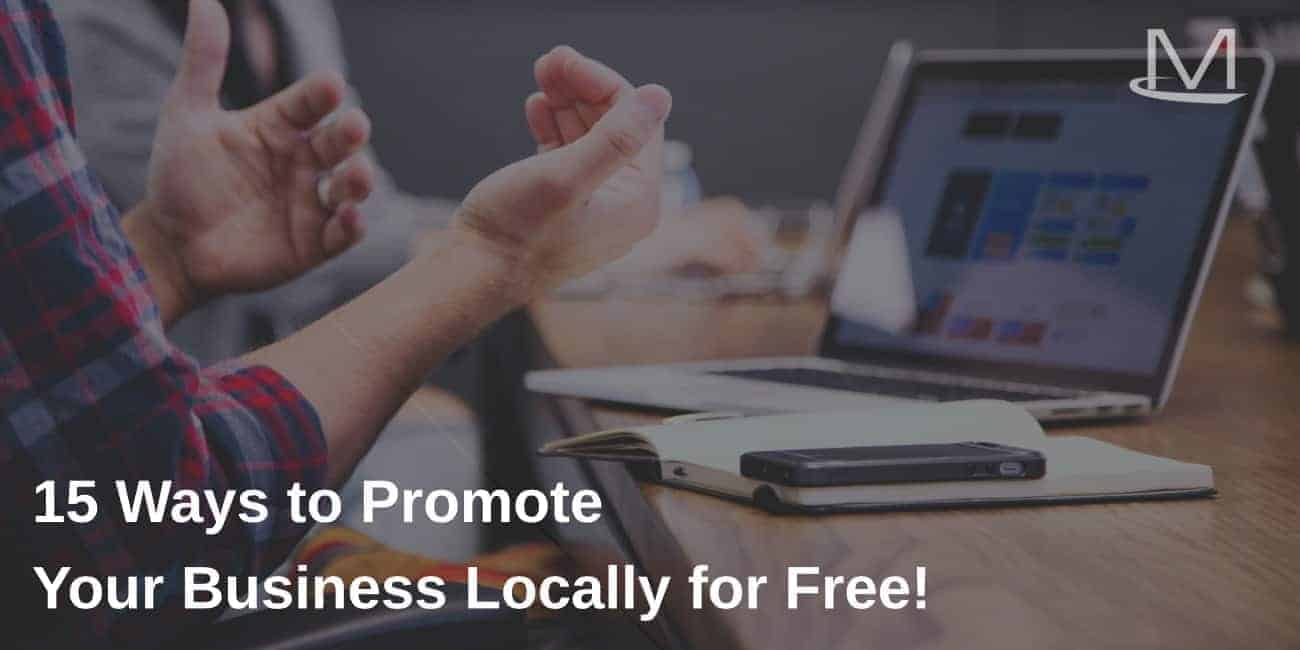 15 Jan

15 Ways to Promote Your Business Locally For Free!

Whether your business is based online or has a physical storefront, a presence in your community is always beneficial. However, many small business owners simply do not have the budget for expensive marketing campaigns. If this is you, do not despair. There are many ways that you can effectively promote your business locally for free! 

In this post, we share several practical ways that you can begin promoting your business in your community today. Ranging from simple practices such as word of mouth marketing to more complex tasks such as Search Engine Optimization practices, there are tasks on this list that each business owner can effectively accomplish.
1. Learn Basic SEO Practices
One of the best ways to promote your business for free is to learn basic SEO practices. SEO, or Search Engine Optimization, boots your business' website in popular search engines such as Google. Some of the most basic ways to implement Search Engine Optimization practices on your website include the following: 
Keywords
Adding keywords based on your products or services to the text throughout your website will signal to Google what the pages of your website are about.
High-Quality Content
Pictures are great for adding visual interest to your website. However, when SEO is concerned, the addition of high-quality written content is highly beneficial. The keywords and information found on your website will give Google important context clues when placing your website within search results.
Optimized Images
Optimizing the images found on your website is another way to provide Google with valuable information. Adding keywords to both the file names of each image and the alt text of the image are simple steps to optimize the images on your website.
Internal & External Links
Adding both internal links (links to other pages on your site) as well as external links (links to pages outside your website that are relevant to the topic) will give Google or other search engines valuable context clues for how your website relates to other relevant searches.
SEO techniques determine the order in which websites rank within online searches. There are many ways to ensure that your business's website ranks highly on local searches. If you are interested in learning more about Search Engine Optimization practices, you can read our complete guide at this link. 
2. Word of Mouth Marketing
Although technology has made great advances in the past decade, never underestimate the power of word of mouth marketing. Every day, you have the opportunity to share about your business. Whether that is in the checkout line at the grocery store, or with the barista preparing your morning coffee, each interaction can add value to your business.
Preparing a concise description of the products or services that your business offers is the best way to share this information in a manner that is both relevant and practical. By practicing this skill you can have organic interactions with each person you meet while adding value to your business.
Additionally, customers of your business who have an incredible experience with your products or services will share that information with their family and friends. This is yet another way that word of mouth marketing is still at work in today's economy.
3. Network with Other Business Owners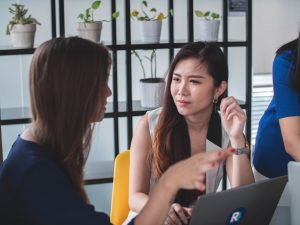 Networking with other business owners in your community, both competitors and non-competitors, is a great way to promote your business. This can be done within networking groups or simply by getting yourself into the community. Sharing what is working (and what isn't) with other business owners in your area can be beneficial to the overall economy of your city.
Many cities have groups either in-person or online that offer this valuable support and networking for business owners in the community. Even if it is just as a means of social interaction, networking with other entrepreneurs can offer inspiration and motivation for promoting and pursuing your business.
4. Develop Your Social Media Presence
Social media is one of the best ways to promote your business locally. By fostering a sense of community, you can impact local consumers in a genuine way. Platforms like Facebook, Instagram, and YouTube have proven to be highly valuable in today's digital age.
Creating engaging content such as eye-catching photos, funny videos, or shareable quotes will create interest around your business. Tools such as hashtags and location tags are valuable in promoting your business to individuals in your community through social media platforms. Younger generations tend to use social media platforms as a search engine tool. 
Social media platforms are the best way to share the atmosphere, culture, and purpose of your business before the customer even enters your location or contacts you about your services. Failing to implement this free marketing platform can greatly impact your business in a negative way. 
5. Implement a Customer Loyalty Program
A customer loyalty program is a great way to encourage returning business. Your loyalty program will depend largely on the type of business you run. Most businesses that run this type of program incentivize returning customers by offering them a free item or discounted purchase after a certain threshold of sales is reached.
Customer loyalty programs are traditionally tracked through punch cards that the customer can keep on hand. However, with recent trends, more businesses have been tracking their loyalty programs through digital platforms. Tracking a loyalty program digitally encourages more customers to participate. Additionally, a digital tracking method is better for the environment as it eliminates wasted paper.
6. Start a Referral Program
Customer referral programs work in a similar way to loyalty programs. With a referral program, you are giving your customers an incentive for their word of mouth marketing on your behalf. When your customer sends a family member or friend to your business, resulting in a sale, that customer is given a discount on future services or products.
7. Ask for Online Reviews from Customers
Loyal customers are always willing to give your business positive reviews! Reviews on your social media platforms as well as search engines such as Google are a great way to promote increased traffic. Businesses with a high rating tend to receive more customers and better sales.
You can ask for these reviews through your social media platforms. However, as a way to increase your business' reviews, randomly select one reviewer each week and provide them with a small reward such as a free coffee.
8. Start a Blog for Your Business
Starting a blog on your business' website is a practical way to share information while adding high-quality content to your website. Whether your blog posts are educational, informational, or simply for entertainment, a blog can add great value to any business' website. 
Blog posts do not have to be a daunting task. Typically ranging from 500 to 1000 words, a blog post can be written by the business owner, various staff members, or even written by a third-party. 
9. Get Involved in the Community
One of the best ways to promote your business to locals is to get involved in the community. A few practical ways to do this include the following:
Volunteer for local events such as races or fundraisers.

Participate in local parades.

Support other local businesses.

Interview with local newspapers or news channels as needed.
Involving yourself and your business in the community establishes a connection with local residents. Community events are a great opportunity for an influx of word of mouth marketing as well as a prime time for distributing complimentary samples to potential customers.
10. Run a Customer Contest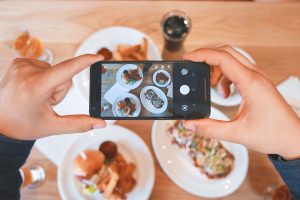 A customer contest is a great motivator! As you are building your social media presence, a customer contest can generate interest, build your following, and increase traffic to your local establishment.
Challenge your customers to post a photo on social media during their next visit to your business. Require them to tag their location and use any relevant hashtags. Choose the most creative entry to win a small prize from your business. If your business provides more expensive services, consider partnering with other small businesses to create a prize package with local items.
A customer contest like this can also provide you with valuable user-generated content that you could use on your social media platforms! 
11. Partner with a Local Influencer
Another way to utilize the power of social media is to partner with a local social media influencer. Social media influencers have worked hard to build the trust of their followers, many of whom are likely locals in the community as well. When you partner with a local influencer, you provide them with services or products in exchange for their promotion of your business.
Although some social media influencers that have large followings require monetary compensation for posts, many micro-influencers (roughly 2,000+ followers) often will trade products or services for a post. This can benefit both parties greatly! 
Oftentimes, a local influencer will host a giveaway for your business. By providing them with a service or product to give to one of their followers, you can grow your social media presence as well as your local interest. 
12. Start an Email List
Emails are often overlooked for other avenues of marketing such as social media platforms. However, an email list is highly valuable to any business. Maintaining an email list allows you to send valuable information directly to your customers. 
Many business owners shy away from email marketing because they are unsure of how to use this tool in an authentic way. Weekly or monthly emails are one of the most effective ways to share blog posts, advertise monthly promotions, or even share a special discount for email subscribers.
13. Join a Local Community Group
Local community groups such as your Chamber of Commerce are a great way to network with both business owners and others in the community. Whether your group meets in a physical location or simply has an online presence, this type of networking can be highly valuable.
Groups within the community are a prime location for planning business collaborations, making valuable networking connections, and establishing yourself in the community. Before you attend a community group, be sure to prepare a brief synopsis of the products or services your business offers. Doing so will allow you to promote your business in a way that is both authentic and effective.
14. Collaborate with Other Businesses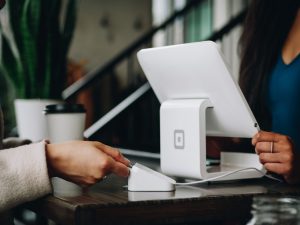 Collaboration is always beneficial to small businesses, especially those who are promoting their services to a similar demographic. Make a list of other local businesses and approach them about collaborating with your business. A few ways to do this would include:
Hosting a local business giveaway through your respective social media platforms.

Advertising for each other's businesses within your establishment.

Offering a discount to the other business after a visit to your location. 
Many times, businesses within a community share a similar demographic. Because of this, you can benefit from the customer base of more established businesses within your area. 
15. Provide Samples of Your Product
The hardest part of promoting your business is convincing potential customers to try the product or service you are offering! When it is possible, samples of your product or a free trial period for your services are highly effective in generating traffic to your business.
Advertising a free trial of your services or a complimentary sample of your product through social media or word of mouth will often encourage potential customers to visit your location. 
As mentioned previously in this post, community events where you can host a booth such as races and fundraisers are the perfect opportunity for distributing samples or free trial vouchers.
Get Started Today!
This list provides a wealth of ideas for ways to promote your business for free! However, do not be overwhelmed by trying to implement all of these ideas at one time. By choosing one or several of these ideas to focus on, you can effectively promote your business to your community.
Are you curious about how McWilliams Media can help you grow your business? Contact us today and schedule your free strategy session to discuss how we can help you promote your business both in your community and online!