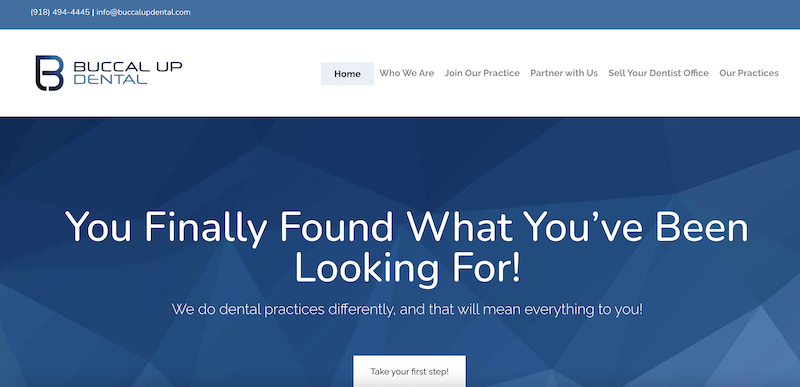 21 Apr

Buccal Up Dental | Featured Business
About Buccal Up Dental
Buccal Up Dental is a well-established dental service company with a track record of providing excellent dental practices and comprehensive practice management solutions. We think it's the ideal location for anybody searching for a solid foundation in a dentist's office with a long-term goal of providing exceptional patient care. We pride ourselves on providing the best opportunities to dentists in our community.
We at Buccal Up Dental think that a good appointment starts and finishes with excellent patient treatment. We know that, as a member of our expanding dental practice, you would not only want to give compassionate care to our new and existing patients, but also that you would want to become a part of our flourishing and diversified community.
What Sets Buccal Up Dental Apart
Buccal Up Dental is run by a dentist, a distribution specialist for dental products, and legal and business experts. Our crew understands the commercial aspects of dentistry practices and what it takes to keep them running properly. We are a dental management company that has the resources of a corporation, yet feels like family, which changes everything.
Services
Here is a list of the business opportunities that Buccal Up Dental provides: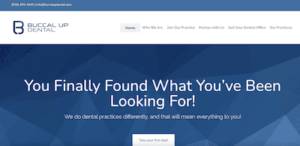 Career opportunities in the dental field
Partnership program for your current dental practice
Support in selling your current dental practice with secure opportunities
Business Information
Buccal Up Dental
In conclusion, whether you are looking for a career in the dental field, looking to partner your current practice, or hoping to sell your practice, Buccal Up Dental is here to help. Our amazing team will help walk you through the appropriate process and make sure you feel like part of our family. We strive to show the world that we care more about patients and less about typical corporate compliance.
Click here to return to the home page.