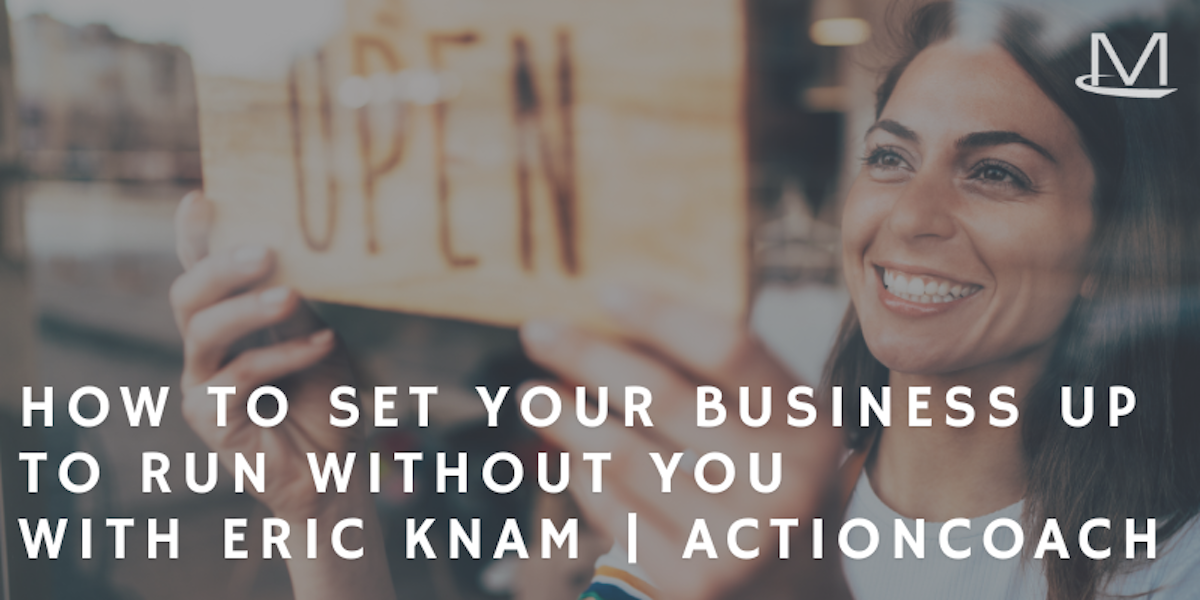 27 Sep

How to Set Your Business Up to Run Without You | ActionCOACH

This month, we are sharing another blog post from Eric Knam with ActionCOACH Tulsa. Eric is a certified business coach providing business help, advice, and mentoring services to small and medium-sized businesses. We've watched many of our business colleagues move from working IN their business to working ON their business, enjoying the perks of being the boss as a result of partnering with Eric.

Keep reading to learn more about how to set your business up to run without you!
Setting Your Business Up to Run Without You | Action COACH
Want your business to run without you? Set it up like you're going on maternity or paternity leave!
Imagine you took 12 weeks off from your company. How well would it run without you there? Would you come back to a huge mess or something even worse?
The answers to these questions not only have a significant impact on the quality of your life, but they also directly affect the value of your business. Being able to take 12 weeks, or even more, away from your business while it continues to run smoothly will ensure you score well on something referred to as "Hub & Spoke", a driver that increases the value of your company.
To understand the Hub & Spoke value driver, think about a big airport like Chicago's O'Hare or London's Heathrow. They act as a centralized routing location for the airlines that rely on them. The system works efficiently enough until a snowstorm shuts down a hub, then the entire transportation system grinds to a halt.
Now imagine you're the hub, and the way you run your business requires all the important issues to go through you. It works, right up until the point you are no longer there to run things. If that's the case, anyone valuing your business is going to discount it significantly.
Removing yourself from the day-to-day business isn't hard. It does require some time and some work. Document your standard operating procedures so your employees have instructions for how you want things done when you're not around.
How a Maternity Leave Created a Business That Was Built to Sell
When Ben and Ariel Zvaifler got a puppy, they found themselves trying to figure out how to train their new dog and they had a lot of questions. What was the best food for it? What kind of toys were the right fit? The couple figured they weren't alone, so after some research, they decided to launch PupBox, a subscription box for new puppy owners.
Among other things, Ariel was responsible for operations. She took great care in selecting the products for each PupBox. She also focused on the customer experience by paying extreme attention to the details. How should each package be shipped? How would it feel when the customer received their PupBox.
When Ariel learned she was pregnant with the couple's second child, she got to work documenting her standard operating procedures. She put together instructions for her staff that described how to order products, merchandise each item, and ship boxes. It took her six months to record everything, and by the time she was ready to give birth, PupBox was prepared to run without her.
These standard operating procedures were a big part of why PupBox grew and why Petco acquired them in 2017.
How to Get Your Company to Run Without You
Start by breaking your job down into tasks, then create instructions for your team so that they can follow your standard operating procedures when you're not there. Test your team's knowledge and abilities by taking a couple of vacation days so you can identify the holes in your processes. Fill the gaps with more details, then take a more extended vacation.
Keep lengthening your time away from work and tweaking things each time you return. By the time you're done, your company will be able to handle your extended absence, just as if you were taking maternity or paternity leave.