20 Feb

Integrity Pools | Featured Business
Integrity Pools | Featured Business
About "Integrity Pools"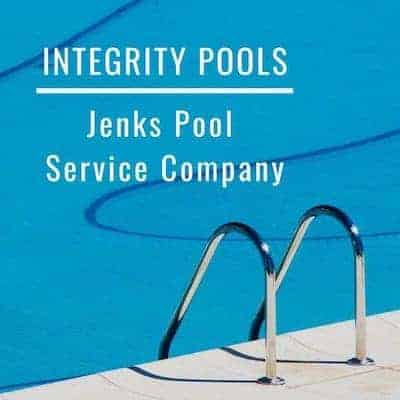 Integrity Pools is a pool service company in Jenks, OK. Owned and operated by Chance Johnson, Integrity Pools provides Jenks pool maintenance and pool chemistry science services for those who like to swim!
With attention to detail and the knowledge to service many different types of pools with a range of different equipment and. pool chemistry, Integrity Pools provides a reliable and trustworthy pool service to Jenks and the Tulsa metropolitan area.
Integrity Pools is open 9 AM – 5 PM Monday through Friday, providing services to those with inground pools, above-ground pools, and even indoor pools. You can expect to have a well-maintained pool all year-round.
What Sets Integrity Pools Apart
There is a lot that goes into owning and maintaining a pool. If the water chemicals aren't mixed and handled properly, they can damage equipment and even make swimmers sick! Integrity Pools specializes in Jenks pool chemistry science. This means you can have a professional apply the right chemicals to your pool in the correct quantity instead of you having to do it yourself.
If your pool is properly maintained, its lifespan can drastically increase; however, it can seem like a hassle keeping up with everything. Integrity Pools can provide skilled and detail-oriented maintenance to keep your pool safe for everyone.
What sets Integrity Pools apart is not only the quality of their service, but also the quality of their customer care. When it comes to someone else working on a piece of your property, it can be daunting having a stranger you don't know to walk in. Chance Johnson with Integrity Pools will put your mind at ease by providing excellent service and respecting your property as if it were his own.
Practice Areas
If you have a pool in the Tulsa area and need help maintaining it, call Integrity Pools today at 903-243-7575.
Business Information
Integrity Pools
Phone
903-243-7575
Email
http://integritypoolstulsa.com
Integrity Pools has the word "integrity" in its name for a reason. If you're inviting someone onto your property to provide a service, you want a business you can trust. Integrity Pools is trustworthy and can answer any of your questions about owning and maintaining a pool.
Integrity Pools is servicing pools all across Tulsa, from outdoor pools to indoor pools. You can save money in the long run by having your pool properly maintained and serviced correctly. If you'd like to see what people are saying about Integrity Pools, click here to read their Google Reviews.