31 Mar

Oklahoma Wagyu | Featured Business
About Oklahoma Wagyu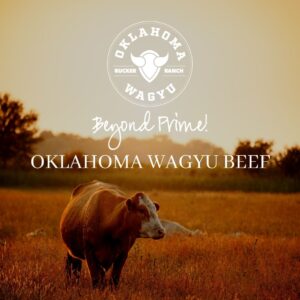 Did you know that over 27 billion pounds of beef is produced in America each year? Much of the beef comes from cattle farms throughout the Midwest. Many of these cows are raised in inhumane conditions where cattle are fed commercial foods to help fatten them up for the market. By the time the beef gets to your table, you don't know where it's been, what chemicals have impacted the meat, and how to cattle were treated as they were raised for meat production.
In steps Rucker Ranch and Wagyu Beef, LLC. Rucker Ranch is a family-owned cattle farm operated by Bill Rucker. They believe in humanely raising cattle and avoiding hormones, growth accelerators, and steroids in order to provide the most high-quality beef.
What Sets Oklahoma Wagyu Apart?
Oklahoma Wagyu is set apart from other beef productions by their dedication to raising cattle humanely and providing organic and chemical-free beef. The steroids and hormones used in many beef productions are proven to lead to negative health effects not only in cattle but also in humans. These chemicals are proven to increase the risk of cancer in consumers.
Finding organic and chemical-free beef is hard to do. Luckily, Oklahoma Wagyu provides online ordering where they ship directly to consumers.
Services
Oklahoma Wagyu produces fine high-quality Wagyu beef. They provide products for consumers and bulk orders for restaurants and commercial orders.
Business Information
Oklahoma Wagyu, LLC
Rucker Ranch Haskell, OK
(918)  638-7669
Click here to return to the home page.