About This Project
Tulsa Chiropractic Care | Travis Chiropractic
We redesigned Travis Chiropractic's | Tulsa Chiropractor website with a fresh look for their move to a new location.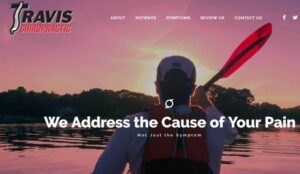 Dr. Travis is an expert in Tulsa Chiropractic carewhich is the practice of using spinal alignment to alleviate a wide variety of physical ailments, including muscle strain, neck pain, chronic back pain, and more. This is accomplished by adjusting the position of the spinal column to its proper shape, providing a non-invasive solution for pain relief.
About the Project
We were able to create a user friendly website.  The site is mobile responsive and eye catching.  Dr. Travis was excited about the move to their location and also their new website design.