About This Project
Property Arts
Website Design
ABOUT THIS PROJECT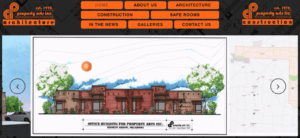 We've really enjoyed doing business with Property Arts. When we started working with the team, we were excited to create a logo and brand that matched the look and feel they were going for. By creating a website that highlights the quality of their work, we have been able to make sure their page stands out from among the rest.
Click here to visit the Property Arts website.
ABOUT THE COMPANY

Tulsa area architect companies Property Arts, INC. and Property Arts Construction L.L.C. has been providing quality architectural and construction services to clients throughout the southern states of Oklahoma, Arkansas, Missouri, and Texas, since the year 1978.
These Tulsa area architect companies are expertly managed by their President, Mr. Darrell Byrd, A.I.A., who is accompanied by his wife Gayle. Darrell received his architectural degree from Oklahoma State University in 1971. His dedicated Tulsa area architect design staff and construction team strive daily, doing everything in their power to work with excellence and ensure client satisfaction.
Together, the Tulsa area architect Property Arts design and construction teams have accomplished a combined experience of over 125 years in various types of projects. Their portfolio is extensive, from small interior remodels to entirely custom created homes, churches, public schools, and commercial buildings in a variety of sizes.