16 Apr

Shannon Property Management | Featured Business

Shannon Property Management is a Houston Property Management company committed to providing top-notch services for property owners both in and around the Houston area. By leasing, managing, and maintaining your rental property, this team of professionals reduces the stress that many landlords regularly experience.

Shannon Property Management is passionate about providing their clients with the maximum benefit from their rental properties. Because of this, they provide education about reducing wear and tear on your rental and properly maintaining your property.

When you are ready to place your property up for rent, this Houston property management company will carefully screen tenants to ensure that the property turnover is minimal, thus increasing your income.
What Sets Shannon Property Management Apart
Houston property management company, Shannon Property Management, has many qualities that set them apart from their competitors. Both owned and operated by native Houstonians, Shannon Property Management has a unique dedication to the community.
As experts in the property management industry, owners Steven and Greg Shannon continue to look for ways to provide a full-service management experience that exceeds their client's expectations. Shannon Property Management strongly believes that the clients' needs come first. Because of this, you can be sure that your property is managed with your best interest in mind.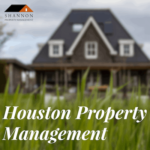 The Houston area has many rental properties, each with distinct purposes. Because of this Shannon Property Management offers both residential and rental home property management. In addition to the many services they provide for single-family property owners, they also manage home portfolios of several properties as well as multi-family complexes.
Another quality that sets Shannon Property Management apart from competitors is the unique ways they encourage their tenants to care for rental properties. A great quality tenant will take care of your rental home as if it is their own. 
Shannon Property Management believes in instilling a sense of ownership in each of its tenants. This is done by establishing a personal relationship with the tenant. In fact, they believe in this so much that they even hold a drawing for a free month's rent on them for tenants that exceed their standards. When you work with Shannon Property Management, you can rest assured that your property is in great hands.
Services
Shannon Property Management specializes in many services for property owners in the Houston area. A few of the ways they serve their Houston Property Management clients include the following:
Residential Property Management

Rental Home Management

Roomshare Management

HOA Management

Rental Property Maintenance
Business Information
You can learn even more about the services provided by the Houston Property Management company, Shannon Property Management by using the information listed below.
Address
Shannon Property Management
217 Marshall St, Suite A
Houston, TX 77006
Phone Number
(713) 369-4362
Email Address
Website
Houston Property Management company, Shannon Property Management, provides so many great services for property owners in and around the Houston area. Working with a property management company will greatly reduce both the stress and workload surrounding your rental property. You can learn more about Shannon Property Management by visiting their Google Reviews here.
Click here to return to the home page.