25 Oct

Shiloh's Restaurant – Broken Arrow | Featured Business
About Shiloh's Restaurant – Broken Arrow
When you are craving a home cooked meal, but aren't able to fix it for yourself, Shiloh's Restaurant – Broken Arrow will provide exactly what you are looking for! Shiloh's Restaurant in Broken Arrow, Ok . As a family owned and operated business since 1987, it offers not only a delicious menu but also a warm atmosphere that is sure to have you coming back time and again. After a year of transition and a transfer in ownership in 2018, the Sylvesters and Humphreys have been carrying on the family-owned business into future generations, and are committed to keeping the Shiloh's traditional menu in place.
What Sets Shiloh's Restaurant – Broken Arrow Apart
Shiloh's takes pride in their food and makes everything fresh daily. They purchase meat only from the best sources; cut fresh in-house; hand patty every burger; make their own salad dressings; squeeze lemons for lemonade every day; bake every piece of baklava to order. Upon entering Shiloh's, one can't help but notice the rustic decor featuring vintage photos of Broken Arrow businesses dating back decades. In addition to their fantastic food, Shiloh's offers catering services, both off-site and on-site. Offering boxed lunches or full buffet spreads, they can accommodate any crowd size or budget.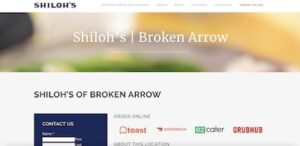 Menu Categories
Here is a list of menu categories that Shiloh's Restaurant – Broken Arrow offers:
Starters

Salads & Fixins

Combinations
Grandma's Entrees
Steak & Seafood
Sandwiches
Burgers
Sides & Drinks
Desserts
Business Information
Shiloh's Restaurant – Broken Arrow
In conclusion, the reviews are overwhelmingly positive with many people expressing that Shiloh's is their favorite restaurant in the area or even the state! Shiloh's has been featured on Food Network , as well as works by the Journal Record. It has been voted "Best of Broken Arrow" countless times from local polls.People love it for its great service, friendly wait staff , delicious food, and warm atmosphere. So what are you waiting for? Head over to Shiloh's in Broken Arrow today and find out why they continue to be a local favorite!
Click here to return to the home page.