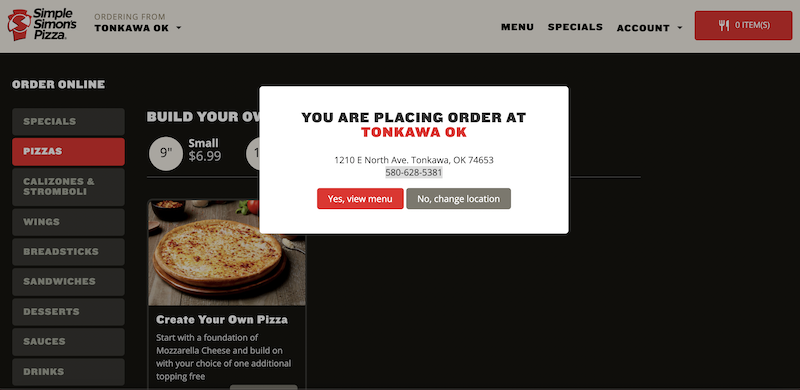 24 Nov

Simple Simon's Pizza Tonkawa | Featured Business
About Simple Simon's Pizza Tonkawa
If you are craving pizza, Simple Simon's Pizza is the place to go. This small pizzeria offers tasty pies at reasonable prices. The menu at Simple Simon's Pizza includes many different types of pizza, including specialties like Grill-N-Bake and Chicago Deep Dish Pizzas. The menu also has sandwiches, breadsticks, salads, wings, drinks, cookies and other snacks.
The restaurant has a casual atmosphere. Simple Simon's Pizza can seat 60 people inside at booths or tables or another 20 outside on the patio. If you don't want to eat in, you can call for take-out orders. A small bar area also houses five televisions that are always on, making it a great place for sports fans to watch games. The restaurant's decor has a modern theme with green and red as the dominant colors.
In addition to serving pizza, Simple Simon's Pizza is the go-to spot in Tonkawa for those who want wings or other fried foods. They also have options that are healthier, including salads. The restaurant serves beer and soda, making it a great place to stop in for lunch or dinner with friends.
What Sets Simple Simon's Pizza Tonkawa Apart
Simple Simon's Pizza has been making pizza in Tonkawa for four years. The owners also own other Simple Simon's Pizza locations and the restaurant is open daily from 11:00 a.m. to 9:00 p.m.
Menu Categories
Here is a list of menu categories that Simple Simon's Pizza Stillwater offers: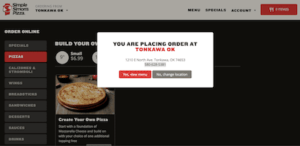 Pizza

Wings
Breadsticks
Sandwiches
Pizzadilla
Keo & Gluten Friendly
Desserts
Business Information
Simple Simon's Pizza of Tonkawa
In conclusion, if you are looking for a delicious, American experience with pizza, Simple Simon's Pizza in Tonkawa is a wonderful choice! From hot cheesy pizza, to tasty pizzadillas, Simple Simon's Pizza is a restaurant that the whole family can enjoy together!
Click here to return to the home page.