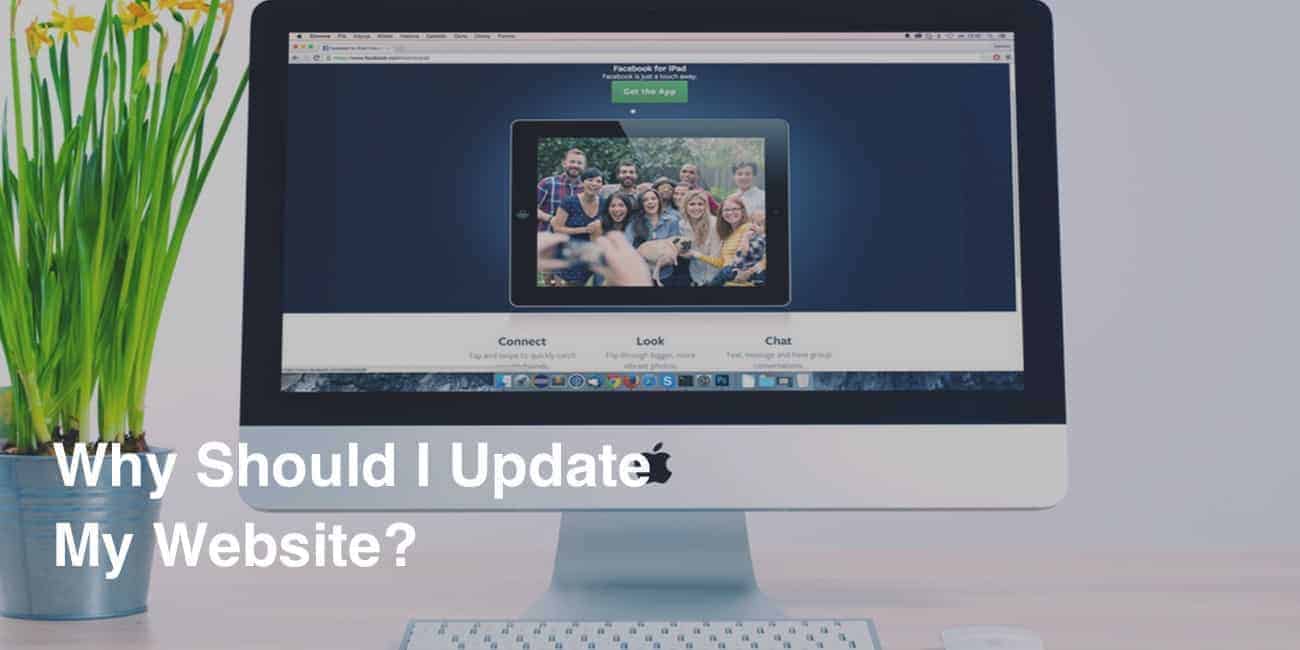 10 Feb

Why Should I Update My Website?

Updating a website is a task that often gets pushed to the end of the to-do list, behind the "important" things. But now that we're going into 2017, your site needs to be on another level for it to stand out against your competition.

There are new trends constantly emerging in both web design and digital marketing. That doesn't mean that you need to redesign your website every time a new trick of the trade comes out. However, there are a handful of metrics you should use to evaluate whether or not it is time to get in touch with your web design agency and discuss the next phase of your online presence.
1) Is your website professional?
Your site has your logo and maybe even some graphics, but does it convey the tone of your brand correctly for today's market?
More importantly, are there any signs of hacking, such as links that take you to unsolicited sites (often explicit in content), or are there ads on your site that shouldn't be there? If your site is perceived as untrustworthy by either the search engines or consumers, it can have a negative effect on your profitability.
Other aspects of your site to check: the quality of your images, your contact information and any contact forms on your site, business details such as hours, phone numbers and product/service offerings should all be current.
2) Is it fresh and contemporary?
While no one expects you to get a new website every quarter, presenting your company as a fresh take in your industry might seem hard to believe with a website that screams 2007. That doesn't mean your product or service is any less amazing, it just doesn't match up with what your website is presenting.
3) Does it provide a positive user experience?
It's important that your website makes it easy for users to find what they are looking for. With the majority of searches being conducted on mobile devices, a mobile-responsive web design that loads quickly on any device is absolutely vital. That means your website should look just as good on a phone as it does on a computer. Minimally, the site should all fit on a single page view when you pull it up on your phone.
Do a fresh run-through of your site as a prospective customer; can you easily and quickly find what you're looking for? Whether it's answers to questions, product specs, the shopping cart or a phone number to call, you want potential clients to be able to find anything they might need to make a decision and become a lead or sale.
4) Is your site being seen and indexed by search engines?
With the number of changes Google makes to its search engines algorithms every year, it's no surprise that thousands of websites' organic rankings have suffered in recent years.
Did you previously get many more visitors or customers from the organic section of Google or Yahoo? The organic section is the section of results that aren't paid ads; these sites are there naturally as a result of the search engine robots finding them to be the best result for the search query.
It's important to keep your site's SEO up to date. Back-linking and curating content that showcases important keywords will help increase your site's presence on top search engine results.
5) Are you getting a satisfactory number of leads or sales?
Most importantly, are leads being generated from your website in the volume you want? There are many reasons you might want to redesign your website, but if you aren't getting enough sales or customers from your website, you need to do something effective to turn it around.
Join us this month on our Vlog as we discuss helpful tips for web design and site updates.