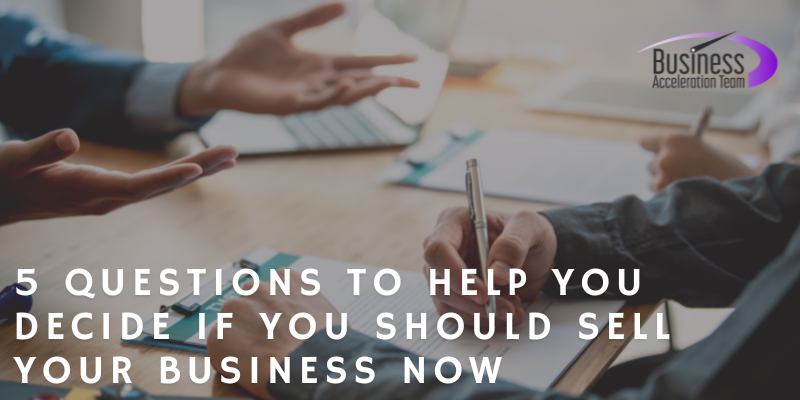 20 Dec

5 Questions to Help You Decide if You Should Sell Your Business Now | Business Acceleration Team

This month, we are sharing another blog post from Eric Knam with Business Acceleration Team. Eric is a certified business coach providing business help, advice, and mentoring services to small and medium-sized businesses. We've watched many of our business colleagues move from working IN their business to working ON their business, enjoying the perks of being the boss as a result of partnering with Eric.

Keep reading to learn more about questions you should ask to determine if you should sell your business!
When Is the Best Time to Sell Your Business?
Has selling your business crossed your mind lately? Are you having a tough time trying to decide if now is the best time? Do you ever wish you had a crystal ball so you wouldn't have to spend so much time on this decision? Do the pros and cons continue to play out in your mind like a tennis match?
If you're just not sure, try asking yourself the 5 questions below to help you figure out if you're ready to get
out now:
1. Does the Fight Still Seem Worth It?
A recession can take a huge toll on a business and its owner. If your business is running smoothly and
the thought of having to fight through a recession has you worried, it might be a good time for you to
get out.
2. Are Your Numbers Headed in the Right Direction?
COVID hit a lot of small businesses hard. Was your business one that thrived during 2020? Did you "pivot" resulting in profit and revenue growth? If your numbers are going in the right direction, now might be the best time to make your move.
3. Is the Tax Man Lurking?
Governments worldwide continue to look for ways to pay the costs associated with an aging population. One of the easiest ways for them to do that is to increase taxes.
4. Are You Worried That Your Luck is Going to Run Out?
Let's face it, no economic cycle lasts forever. If things are going well for you and your business, now might be a perfect time to pull a few chips off the table.
5. What is My Business Worth?
To answer this question, determine your industry multiplier (it usually ranges between 2x and 5x depending on the industry), then multiply it by your seller's discretionary earnings (SDE).
Buyers want to know if your business has the ability to generate future cash flow and how much opportunity exists in the industry. If both of these numbers are strong, then you stand to walk away with a nice payday.