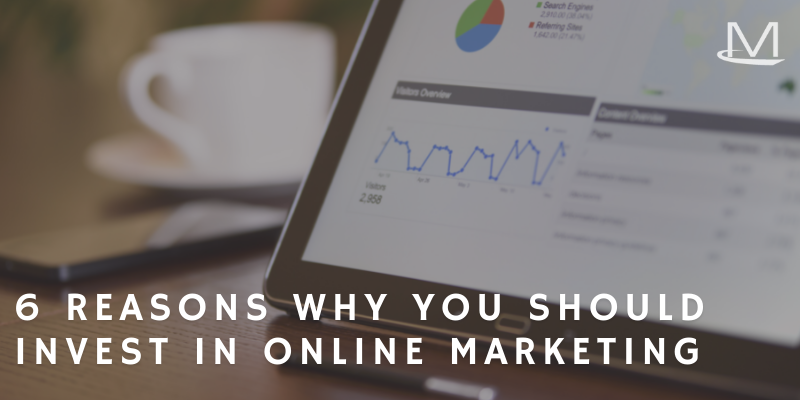 22 Nov

6 Reasons Why You Should Invest In Online Marketing
Benefits of Online Marketing for Business
Online marketing is becoming more and more popular, with small businesses taking advantage of online marketing strategies to generate traffic. Online marketing, the process of promoting your company online through various internet channels like social media or email campaigns, offers many benefits for small business owners.
In this blog post, we will discuss some of the top reasons why you should invest in online marketing in the coming year.
What is Online Marketing?
So, what exactly is online marketing? Online marketing is the process of promoting your company online through various internet channels like social media or email campaigns.
Many online marketing strategies, including content marketing and search engine optimization (SEO), can be done with a low-cost investment. This is especially true when compared to traditional marketing methods such as print ads or billboards.
Research has shown that online marketing is more effective than traditional methods. This is largely because it allows you to monitor the success of campaigns and make changes quickly based on data from previous online campaigns.
Top Reasons to Use Online Marketing
There are many benefits to utilizing online marketing strategies. Let's discuss some of the top reasons we believe every small business owner should invest in some form of online marketing.
1. Improve Your Online Presence
One of the top reasons online marketing is beneficial for small businesses is that it can improve your online presence. Having a strong online presence provides many benefits, including reaching a larger audience and increasing customer loyalty.
With more people turning to the internet for information, it's important to have a presence online. There are many ways you can increase your online presence including establishing an email list, publishing blog posts, and creating social media profiles.
Online marketing provides opportunities for small businesses to generate traffic through these channels which helps improve their overall brand awareness.
2. Increase Brand Awareness
Another reason online marketing is beneficial for small businesses is that it can improve brand awareness. If done effectively, online marketing campaigns allow your business to reach a larger audience and increase the number of customers who are aware of your product or service.
One example of this is through email marketing, which allows you to identify current clients as well as people who have shown an interest in what you offer but may not yet be ready to buy from you – yet!
Email marketing has been proven successful because it provides a two-way dialogue with targeted audiences, increasing customer loyalty by helping them find exactly what they need quickly and efficiently. This type of strategy motivates potential new clients to return and refer others due to their positive experience with online advertising.
3. Optimize Your Marketing Dollars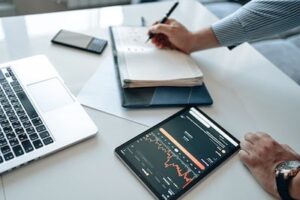 Online marketing is highly beneficial for small businesses because it is cost-effective and affordable.
Unlike more traditional forms of marketing, most online marketing strategies are completely customizable for when and how you want to spend your marketing dollars.
For example, pay-per-click (PPC) advertising allows you to choose the keywords and pay only when someone clicks on your ad.
This is a great way for businesses with smaller marketing budgets to get their message in front of more people without blowing their entire budget on an online campaign that may not necessarily be targeted toward existing clients or potential new ones.
It's important to note that this type of strategy takes some time and effort before it becomes effective. However, once it does start working for you, PPC strategies can often result in lower product costs than other types of advertisements while still allowing you to reach larger audiences through social media channels like Facebook and Twitter.
4. Target Your Ideal Audience
Online marketing allows small businesses to reach a targeted audience. With online marketing, it's possible to target customers in specific locations or demographic groups based on the keywords they use when searching online.
Search Engine Optimization (SEO) allows your business to rank high up in search engines like Google and Bing so potential customers are more likely to come across your website while browsing online.
With SEO, you don't have to worry about reaching too broad of an audience. It will make sure visitors looking for information related to your keywords find exactly what they're looking for! This top strategy makes online marketing easy since all efforts can be focused on honing in on a specific topic.
5. Create Brand Loyalty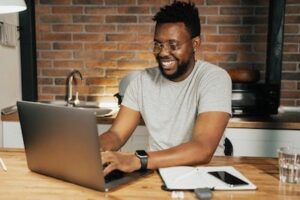 Another reason online marketing is beneficial for small businesses is that it increases brand loyalty. The internet has increased the ease of comparison shopping online.
This makes customers more likely to switch brands if they aren't satisfied with their current product or service.
With online marketing strategies, you can monitor your audience's opinions on social media platforms like Facebook and Twitter in real-time. This allows you to make changes quickly based on data from previous online campaigns!
You can easily identify what works best for each customer demographic before they even purchase a single item. Because of this they're not just buying once but continually returning due to positive experiences online.
This type of targeted strategy results in higher revenues over time. Customers purchase products or services without hesitation. This is because they know they'll be receiving a high-quality product and positive online customer service.
6. Improve Customer Service
Online marketing also allows you to improve customer service. In addition to online purchase capabilities, websites allow customers the freedom of easily finding answers to their questions without having to pick up a phone or send an email.
Online support coupled with social media platforms like Facebook and Twitter provides customers with 24/7 access online! This type of combined strategy leads to fewer issues surrounding returns. Products are purchased directly from your website, making buying easier than ever before!
With an improved online presence through online marketing campaigns, potential new clients will find what they're looking for quickly and efficiently without feeling frustrated by poor advertising practices.
Best Online Marketing Strategies for Small Business
There are several ways that you can utilize online marketing to your advantage depending on your unique goals and business type. The best way to determine an effective online marketing strategy is to work with a team of experts who specialize in this area.
Search Engine Optimization
Search Engine Optimization, or SEO, helps online marketing by optimizing your site for specific keywords to reach a targeted audience.
Email Marketing
Email marketing campaigns allow you to communicate with existing clients. You can keep them updated on new products or offers while also reaching out to potential clients through newsletters! Sharing valuable content in these emails can help build brand loyalty over time resulting in repeat business too.
PPC Advertising
PPC, or pay-per-click, advertising uses online ads like Google AdWords and Bing Ad Center to promote products or services on search engines like Google, where potential customers are more likely to find what they're looking for quickly online.
Blogging
Blogs are another great way to promote your company! By blogging about topics related to your industry, customers can learn more about you. Not only that but blogs have the power of SEO behind them so you'll be able to reach potential clients who might not find their way on any other platform.
These blog posts will also stay visible for future visitors as well. This means there's a never-ending marketing opportunity with this strategy too!
Finding An Online Marketing Strategy That Works for You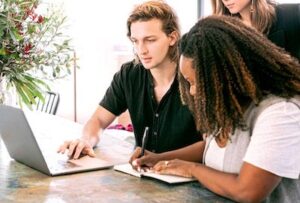 To determine what online marketing strategies best suit your business goals it is essential to first analyze your current website traffic and online presence.
Understanding how many people you are reaching and why will help determine your ideal digital marketing strategy to get more potential customers in the door.
We understand that this process is overwhelming for many small business owners. By working with a team of professionals, you can eliminate the stress of online marketing while reaping the countless benefits.
At McWilliams Media, we create custom online marketing strategies that help small businesses like yours stand out from competitors online. Contact us today for a free consultation on helping you meet your goals with effective online marketing strategies!