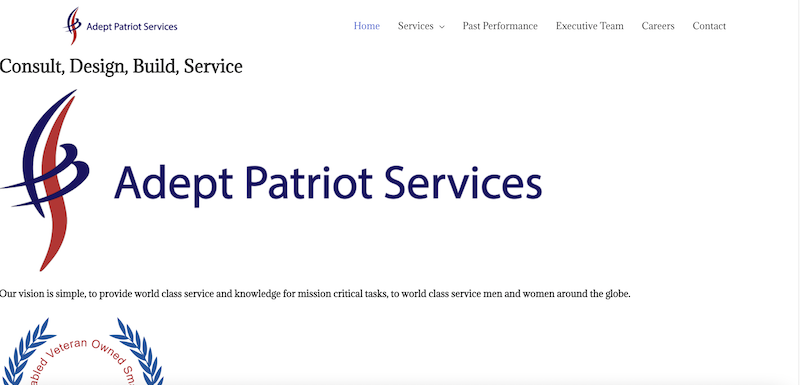 15 Dec

Adept Patriot Services | Featured Business
About Adept Patriot Services
Adept Patriot Services is a full-service firm that offers planning, design/build advice, installation, commissioning and monitoring for Low Voltage Communications, Electronic Security, and Life Safety System Solutions. We draw upon our experience serving the military abroad and our technical team's specialized skill to provide a comprehensive and informed service for our clients' unique project demands. We are a small business owned and run by Service Disabled Veterans that can assist you fulfill your set-aside objectives.
What Sets Adept Patriot Services Apart
The Department of Veterans Affairs in Fayetteville, Arkansas, awarded Adept Patriot Services a contract for comprehensive consultation and installation services. The existing video surveillance systems on campus, the existing campus police security stations, and present IP Security Cameras were all investigated as part of the Department of Veterans Affairs' scope of work.
Services
Here is a list of services that Adept Patriot Services provides: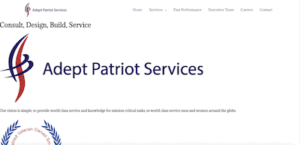 Telecommunications

Communications & Electronic Security

Life Safety Systems
Business Information
Adept Patriot Services
Adam Winbury
In conclusion, John Klewicki, a retired SFC (Ret), created Adept Patriot Services in February 2018. In telecommunications, radio communications, and Weapons of Mass Destruction Counter Terrorism and Mitigation, SFC (Ret) Klewicki served more than 24 years for his country. SFC (Ret), Klewicki, understands the burden that each military service member and their families bear, so he set out to create a team knowledgeable with the difficulties of working with complex government agencies and employing top SME's in the field of Low Voltage, Electronic Security, and Communications systems to continue his assistance throughout retirement for his fellow service members. To learn more about this business, make sure to check out their Google reviews. 
Click here to return to the home page.