29 Jan

Ark Roofing & Construction | Featured Business
Ark Roofing & Construction | Featured Business
About "Ark Roofing & Construction"
Ark Roofing & Construction provides Broken Arrow roof repair and other services to the Tulsa area. This is a Broken Arrow roofing company dedicated to delivering quality work on any exterior projects you may hire them for.
For roof repair projects, Ark Roofing & Construction trust Atlas roofing products to get the job done. Roofs should provide protection and security from all that Mother Nature has to throw at us; Ark Roofing & Construction will guarantee that your roof can stand the test.
What Sets Ark Roofing & Construction Apart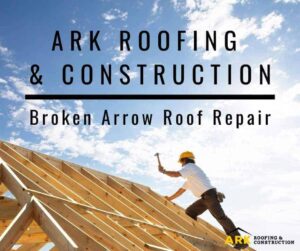 What sets Ark Roofing & Construction apart from other roofing companies in Broken Arrow and Tulsa is their customer care and core values. They believe that a roofing company should be comprised of skilled professionals who show quality work every time.
With this in mind, Ark Roofing promises to show up on time, every time, be friendly, clean up after themselves, have an experienced crew on hand, and give you peace of mind. Hiring a professional should result in a job well done, not one that will keep costing you money in the long run.
Services
If your home or business needs Broken Arrow Roof Repair, call Ark Roofing today at (918) 376-5922.
Business Information
Ark Roofing & Construction
Address
2109 N. Beech Ave, Broken Arrow, OK, 74012
Office Phone
(918) 376-5922
Websites