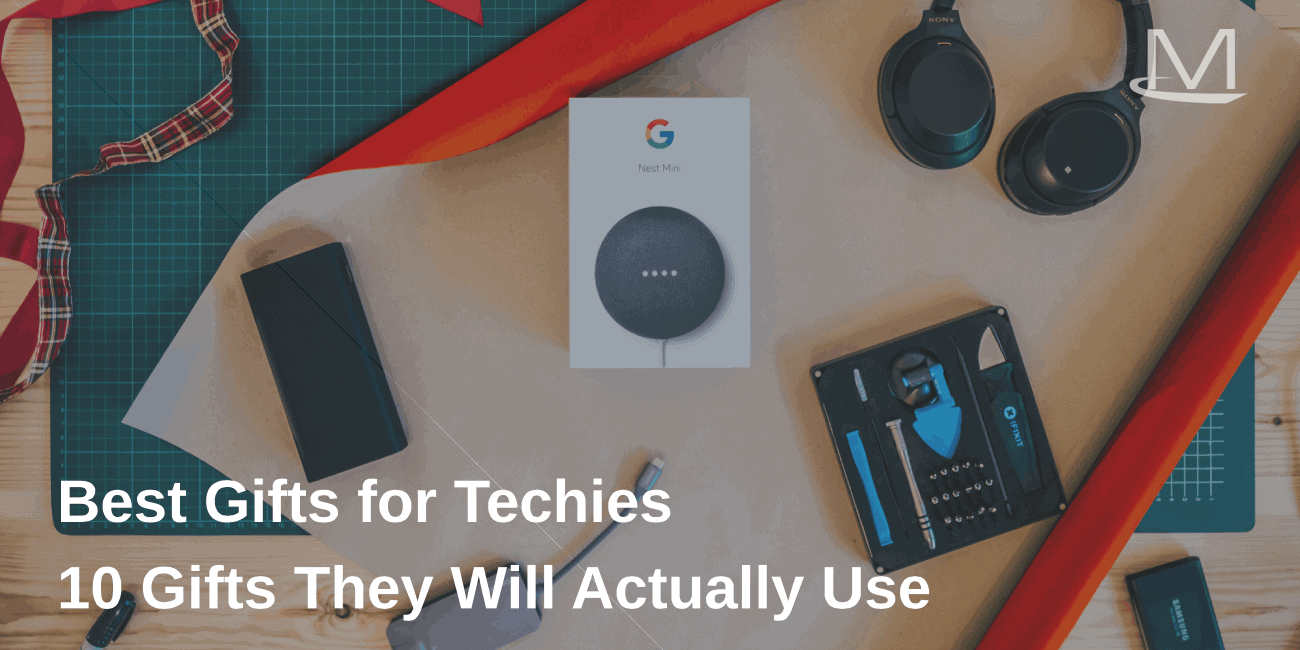 17 Dec

Best Gifts for Techies | 10 Gifts They Will Actually Use

Want to get the techie in your life a gift they will love? Check these out! Some are a must, some make life more convenient, and others are just plain fun!
Magnetic Twist Ties
Everything has a cord these days. Charger cords for your phone, keyboards, watches, earbuds, laptops…the list goes on and on! Keep the mess at bay with quick and easy magnetic twist ties. Much faster than velcro and looks cleaner too!
Shelf For Your Hard Drive
Want an easy, out-of-sight storage solution for your hard drive? Purchase one of these hidden storage shelves for hard drives or other computer accessories. This is an excellent way to keep your desk neat and free of bulky items.
Laptop Case
When I'm in a meeting, I always need my laptop and my iPad pro. This is laptop case is perfect for both! I don't need to bring my entire briefcase, I can just pull this out and can be on my way!
Cord Organizer Bag
Every techie travels with a collection of cords. Whether that's across the country or just to the local coffee shop, it's good to keep those cords organized! This cord organizer bag provides a compact solution for charging cables, flash drives, SD cards, and even a spot to keep your iPad.
Erasable Message Board
Everyone likes to have a reason to laugh at work! This erasable message board is both practical and fun, depending on the message it's holding. Your favorite techie can choose from one of the 30 messages already printed on the cards… or speak their mind using the erasable marker and blank cards!
Standing Desk Mat
Perfect for anyone who works at a desk, this standing desk mat offers ten different standing positions designed to promote energy and productivity!
Adhesive Whiteboard
Sometimes it's best to write out your thoughts where you can see them. This adhesive whiteboard sticker easily adheres to any wall! It's the perfect place to write notes to yourself, keep track of your meetings, or work on a tricky problem.
Office Seat Cushion
There isn't anything worse than having back pain distract you from the project that you're working on. This comfortable office seat cushion provides comfort and support while promoting good posture.
MacBook Desk Stand
Most techies have a collection of computers that they use for various tasks. This desk stand is the perfect way to store and protect a MacBook that isn't in use! Sleek and stylish, this practical gift is sure to be a hit.
Memo Board
What's better than a messy pile of sticky notes? A nice memo board complete with a space to store your phone while you work! This transparent board provides a convenient solution for organizing the sticky notes that inevitably cover your desk.
With the help of this list, you will be sure to give your favorite techie a gift they will use time and time again!