07 Feb

Crown Hospice TX | Featured Business
About Crown Hospice TX
The mission of Crown Hospice of Victoria, Texas, is to provide support for those that require end-of-life care. We felt led by the Lord to serve this unique community and the people who make up it. Our community thrives on diversity, and we are delighted to be situated in a "cultural crossroads."
Our team members at Crown Hospice of Victoria, TX are attuned to our patients' cultures and will give comprehensive end-of-life care to anybody who is medically eligible for the hospice program. Call us with any queries regarding hospice standards.
What Sets Crown Hospice TX Apart
We at Crown Hospice of Victoria, TX think that our patients and their loved ones should be educated about palliative care. We are upfront with our services and readily available to address any concerns you or your family may have. Our care team members offer a wide range of services to ensure that our patients receive the best level of hospice care possible. Crown attracts highly compassionate individuals who would be delighted to assist you and your loved one in fulfilling their goals.
Services
Here is a list of the areas of practice that Crown Hospice TX provides: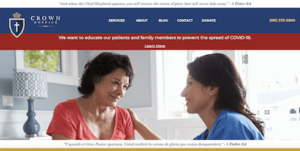 Hospice Care

Bereavement Services

Caregiver Support Services
Business Information
Crown Hospice TX
Crown Hospice of Victoria, TX was attracted to the area's rich culture and religious appreciation because it serves a diverse group of individuals. Our hospice services have progressively expanded to meet the demands of not just our patients, but also their families and caregivers, since our inception date on January 2nd, 2007.
To learn more about this business, make sure to check out their Google reviews. 
Click here to return to the home page.