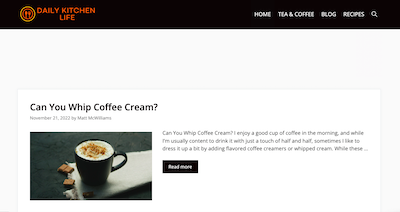 12 Dec

Daily Kitchen Life | Featured Business
About Daily Kitchen Life
Daily Kitchen Life was created by chef Mark C. Pettway to help you make the best, most informed decisions when buying kitchen supplies. This is the site to visit if you have questions or need help making up your mind about kitchen products before you buy them. Their posts range from product comparisons, to reviews, and suggestions.
When you're out shopping for kitchen appliances, you only see what is being advertised to you and not the product reviews and how the product compares to a competitor's product. With Daily Kitchen Life, you can browse their articles and read about how the product actually works and not just sponsored review.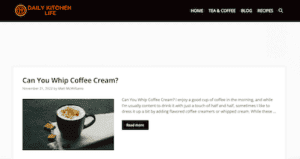 What Sets Daily Kitchen Life Apart
Since Daily Kitchen Life was created by an actual chef, you can rest assured that the products they have reviewed actually work and are great tools to use in your kitchen. Their posts are thoroughly researched to make sure readers are getting accurate information.
Daily Kitchen Life knows how disappointing it can be to get excited about a new kitchen appliance only to get it home and find out it does not work as advertised. Not only can it be a waste of money, but also a waste of your time. Additionally, not everyone has the insider knowledge and experience as an actual chef about what tools to use in the kitchen.
Daily Kitchen Life is the everyday cook's solution to a well curated home kitchen!
Services
Daily Kitchen Life provides their readers with well researched and in-depth articles about what appliances and tools work best in the kitchen.
They post these blogs regularly on their website, so make sure to check out their website for more information!
Business Information
Mark C. Pettway- Chef and creator of Daily Kitchen Life
Conclusion
Whether you are a kitchen novice or an experienced chef, Daily Kitchen Life is a great website to visit to make sure you are curating your kitchen well. Their product reviews are extremely helpful and can save you money and time in the kitchen. Do not hesitate to visit their website, we are sure you will find some great kitchen insight!