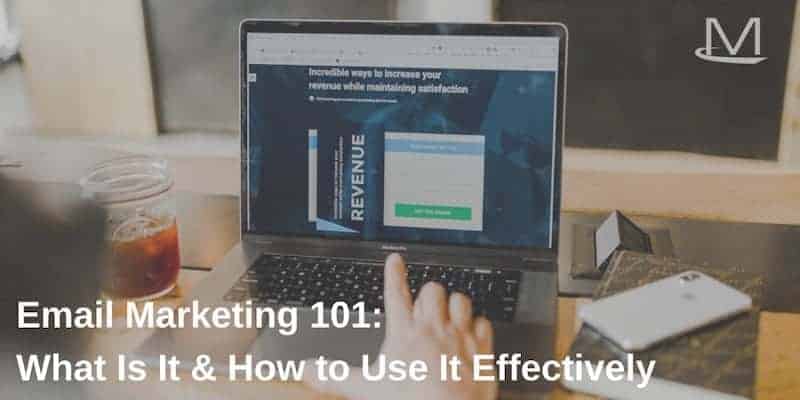 21 Oct

Email Marketing 101: What Is It & How to Use It Effectively

With each passing year, there are more and more ways to communicate with your audience. From your website to social media platforms and everything in between, it can be hard to know the areas of marketing on which you should focus. Effective marketing strategies, including email marketing, can contribute to the success of your business in the long run.

As a business owner, should you use email marketing? Yes! We have seen the many benefits of email marketing in both our business and the businesses of our clients. Additionally, email marketing is the most direct way of communicating with your audience regularly. For this reason, we believe that every business owner should implement email marketing.

If you choose to use email marketing, however, you must do so effectively. In this post, we will touch on some of the benefits of using email marketing in your business. We will share some tips for effective email marketing as well as some ideas on what information to share with your email list.
Using Email Marketing Effectively in Business
Email marketing is one of the most effective and affordable ways to market your business and communicate with your audience. After developing an email marketing strategy, it is also relatively straightforward. However, there are some important things to consider before launching an email campaign.
What is Email Marketing?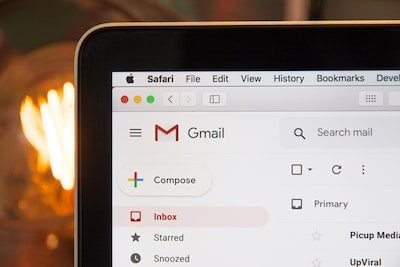 Before we discuss the specifics of email marketing, we must first define what email marketing really is. The term 'email marketing' often intimidates business owners as they believe they need an intensive marketing plan. 
Email marketing, however, is simply the act of sending messages to your business audience. Any email that you send to your audience could be considered a form of email marketing. An effective email marketing strategy for business often includes a variety of advertisements, news and updates regarding your business, helpful articles or information, and more.
How to Effectively Use Email Marketing
Effective use of email marketing for small business is the key to success. In order to benefit from this form of marketing, there are a few things you must keep in mind. 
Prioritize Quality Over Quantity
Far too many companies flood their audience's inbox with unnecessary emails. This leaves their audience frustrated and causes many people to unsubscribe. In order to be effective, it is important to prioritize quality content over the number of emails that you send. You should create each email with the ultimate goal of providing benefit to your audience. This will lead to a higher open rate and a more engaged audience.
Consistency is Key
While you certainly don't want to overwhelm your audience with emails in their inbox, it is important to remain consistent in how many emails you send each month. There will be seasons where you may decide to take a more active approach to email marketing and others where you choose to take a step back.
Whatever season you are in, however, it is important to prioritize consistency. As a business, you should aim for at least one email per month, or an email every other week. 
Take Steps to Grow Your Email List
Your email list provides you with a highly accessible form of communication with your audience. When you choose to invest in network marketing, you should actively take steps to grow your email list. This can be done by requesting email addresses for each new customer, incentivizing your audience to join your email list with a giveaway, or a multitude of other methods. 
Schedule Your Emails for Success
Did you know that the time and day at which you send your email can impact its efficacy? While you may have to track the patterns of your unique audience, studies have shown that emails sent on Tuesday and Thursday mornings often have a higher probability of being opened. 
As you implement email marketing for your business, send the first few emails at varying times, tracking the open rates to determine the most effective send time for your audience. Many email marketing platforms also provide you with more detailed analytics regarding this topic.
Email Design is Important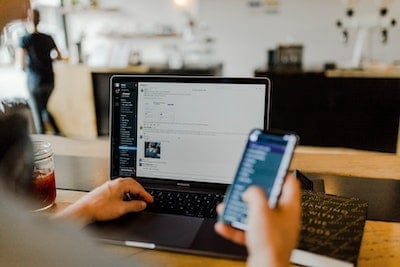 In order to have an effective email marketing strategy, your emails must be visually appealing! Your emails should include high-quality images and graphic design elements. They should follow a layout that is easy to read and scan to find important information.
Additionally, it is imperative that your emails look great not only on computers but also on mobile devices, tablets, and more. In this age of technology, your audience will likely engage with your content on a variety of devices. It is important that you provide the same quality experience no matter the platform on which it is viewed.
There are of course a countless number of email marketing tactics that can be used to improve the efficacy of your email marketing.
Benefits of Email Marketing for Business
With so many forms of marketing available to today's business owners, what are the benefits that make email marketing unique? Here are just a few of the ways we have seen email marketing benefit both our business and the businesses of our clients.
Email Marketing Provides Personalized Communication
Some forms of marketing such as your website or your social media platforms cater to both current and potential customers. Because of this, the information and education that you share on these platforms are often rather broad. Email marketing, however, provides you with the opportunity for more personalized communication. 
By creating various campaigns, you can focus the email on a specific audience such as repeat customers, potential customers, or VIPs. This allows you to share information that will benefit their unique relationship with your business. 
Email Marketing Improves Sales
Emails provide a perfect opportunity for advertising new products or services that you believe would benefit your audience. In many cases, these might be products that the customer would've otherwise missed. Through effective email marketing, you can improve sales and increase profitability company-wide.
Email Marketing Allows for Easy Follow-Up
As a business owner in any industry, it is important to establish a system for following-up with your customers following their purchase or service. This not only allows you to request reviews but also provides an opportunity for important feedback. 
By establishing this method of communication, you can continue to grow your business to more closely reflect the needs and desires of your audience.
Email Marketing Is a Great Opportunity to Repurpose Content
Your business likely creates content for various platforms such as your website, Facebook, Instagram, YouTube, and more! A great way to repurpose this content to reach a larger audience is to include it in your monthly emails! Make the most of your investment by utilizing blog posts, informational videos, and more in this way. 
What Information Should You Send to Your Email List?
So, what information would you even send to your email list? There are countless things you can include in your email marketing strategy. An effective email marketing strategy includes a variety of these topics on a rotating basis. Some of the information you may include in your emails includes the following:
Information regarding your business.
News or business updates that impact the customer's experience.
Real-life stories or reviews from customers.
Educational articles on how to better use your products or services.
Direct or indirect advertisement for your products or services.
Videos or other engaging media elements.
Other information you believe your audience would find to be of value.
Some companies may plan a marketing strategy that includes primarily information and education. Others may choose to focus more of their efforts on advertising their products or services. 
Your email marketing strategy should reflect the nature of your business as well as the audience that you cater towards. A company that specializes in email marketing can help you define your voice and discover topics that you can incorporate into your email marketing strategy. 
Implementing An Email Marketing Strategy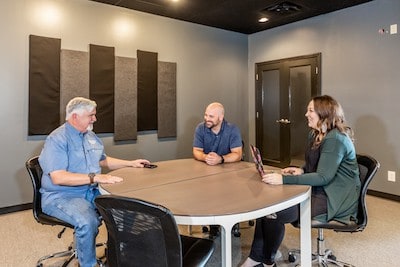 If you do not have an email marketing strategy in place, you are likely wondering how you can implement this form of marketing for your business. On the other hand, you may be realizing that your existing email marketing strategy is not as efficient or effective as it could be. No matter your current relationship with email marketing, we are here to help! 
At McWilliams Media, we offer email marketing services for a wide variety of industries. With high-quality images, professional graphic design, campaign management, community development, and more, our team can help you implement an effective email marketing strategy. 
By partnering with our team, you can encourage a greater connection with your audience, increase sales, follow-up with existing customers, and foster an accessible form of personalized communication. We are passionate about creating solutions to the challenges that you face within your business, including challenges with email marketing.
Are you ready to start working towards an email marketing strategy that works for your business? We offer free strategy sessions where we will work with you to determine your needs and goals through email marketing. Contact our team today to schedule your free strategy session!