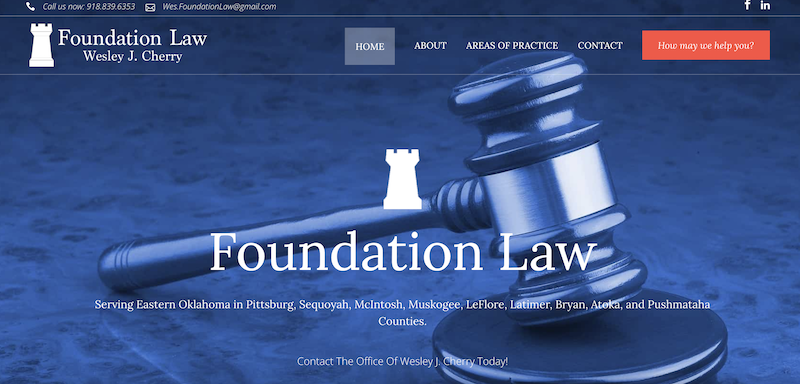 25 Jan

Foundation Law Firm | Featured Business
About Foundation Law Firm
Whether you are in McAlester, Eufaula, Sallisaw, Poteau, Checotah, Wilburton, or Atoka, Foundation Law Firm is here to represent you. Foundation Law is a personal injury, criminal, and family law practice based in Eastern Oklahoma. Foundation Law is dedicated to assisting its customers through difficult circumstances and providing the guidance and assistance they require after years of experience in many areas of law.
What Sets Foundation Law Firm Apart
For over 7 years, Wesley Cherry has worked hard to defend and protect the rights of citizens in counties across eastern Oklahoma. Specializing in criminal law, Mr. Cherry is prepared to help people in a variety of situations. He is also experienced in family law, and is a skilled divorce lawyer who understands how stressful family situations may be. He is dedicated to assisting his clients in the most expedient manner possible.
Services
Here is a list of the areas of practice that Foundation Law Firm provides: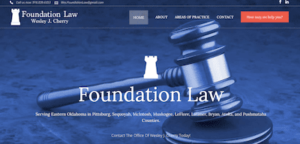 Criminal Law

Personal Injury

Family Law

Civil Law
Business Information
Foundation Law Firm
Wesley J. Cherry
In conclusion, Foundation Law Firm is committed to help you with your legal battles. Whether you are facing a misdemeanor or felony, or need help in a custody battle, Wesley Cherry is a responsive and caring attorney who will help you. He will take the time to explain the legal process, and work to give you fair representation.
To learn more about this business, make sure to check out their Google reviews. 
Click here to return to the home page.