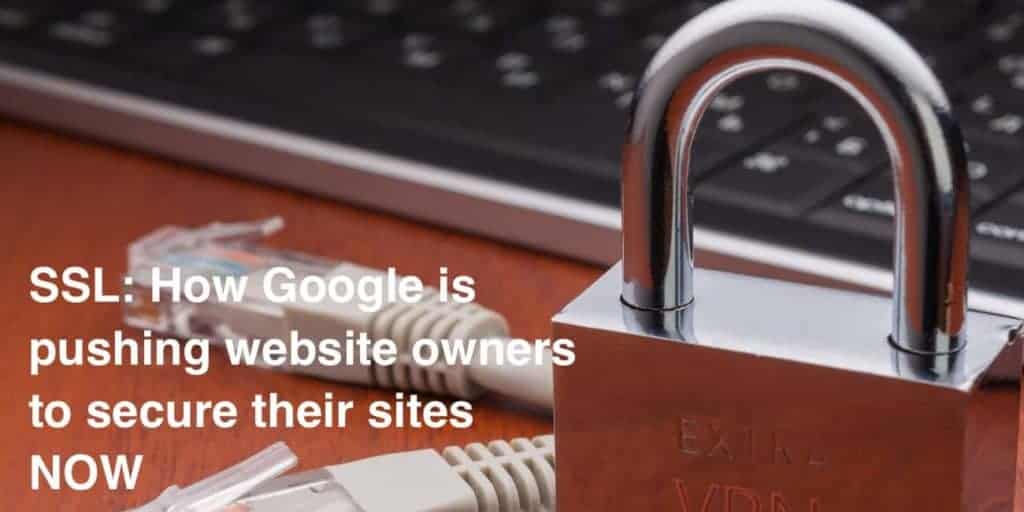 26 Jun

Google & SSL: How Chrome is Pushing Owners to Secure Their Sites NOW
Chrome Users Warned About Non-SSL Sites
Google is making a bold move beginning in July. They have always worked to "nudge" website traffic away from unencrypted (HTTP) sites. This has been accomplished by displaying a green padlock icon and a "Secure" sign whenever Chrome users visit encrypted (HTTPS) sites. And in 2015, Google began down-ranking unencrypted sites.
However, starting in just a few days, all Chrome users will see an extra warning when visiting any HTTP site. The browser will now mark all HTTP sites as "not secure" rather than simply marking HTTPS sites as secure. This is bad news for any site that does not have an SSL certificate.
SSL Basics
For those of you who may be a little lost right now, here's a primer on what an SSL certificate is. First, and most simply, if your site has a current SSL certificate, it becomes an HTTPS site. That means that the letter "S" for "Secure" is displayed at the beginning of your web address. This lets the user know their connection to your site is being encrypted.
That encryption is what makes sure their information is not visible to anyone else on the web. When a customer connects to your website, their information passes through connecting computers in order to get to your server. If the connection is not encrypted, those computers can read your customer's username & password, credit card numbers, and any other information being passed.
What is an SSL Certificate?
The SSL certificate is what assures that your customers' connection to your site is secure. Having an active SSL certificate gives you a way to keep others from spying on what people are doing on your site. And it helps you take care of your company's information as well as your customers'.
In a technical sense, an SSL certificate is a small data file. This file digitally binds an encryption key to your site's details. This cryptographic information acts as a padlock. This activates HTTPS protocol and allows secure connections between your customers' browser and your site.
Customers Driven AWAY From Your Site?
As a website owner, you want your customers' information to be secure, as well as your own. And starting in July, if you don't have an SSL certificate, all Google Chrome users will be warned NOT to visit your site. That could significantly drive users AWAY from your site!
We've got you covered.
Good news. If you signed up on any of our hosting packages from 2019 on, you already have an SSL certificate. That means you're secure, and your visitors won't receive any warnings on your site. But if you are on an older hosting plan, we have options .
Hosting Options for SSL
First, you can upgrade to our silver, gold or platinum hosting plan. These plans not only include free SSL but many other advanced features that could significantly enhance your site's potential. But if our basic plans is still best for you, you can also purchase an SSL plan separately.
SSL Add-on
We also offer an SSL add-on. This service provides a complete SSL certificate set-up for your site for a one-time fee of $175. Then just pay an annual maintenance fee of $100 to keep your certificate current and active.
At McWilliams Media, we are passionate about your success! And one of the most important elements to your success is website security. If you do not have a current SSL certificate or have questions about securing your site, contact us today!