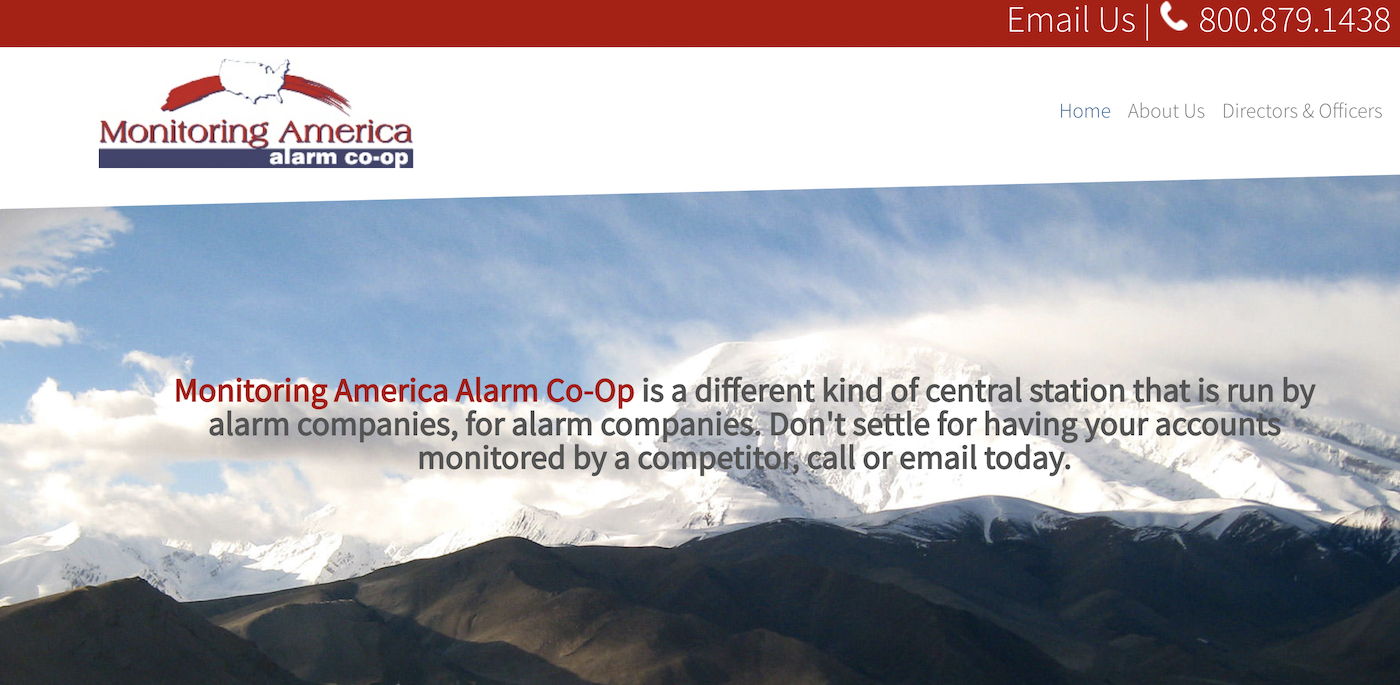 20 Aug

Monitoring America Alarm Co-op | Featured Business
About Monitoring America Alarm Co-op
Monitoring America Alarm Co-op is a unique business that is designed to help alarm companies. This special monitoring station offers wholesale alarm monitoring services such as security alarm monitoring, fire alarm monitoring, medical alert monitoring through personal emergency response systems (PERS), two way voice, and video verification. They are a different kind of operational system that is run by alarm companies, for alarm companies. Monitoring America was founded in 1989 with the vision of serving the wholesale alarm monitoring needs of alarm businesses. They have developed a strong reputation for quality customer service and fair pricing.
What Sets Monitoring America Alarm Co-op Apart
Monitoring America Alarm Co-Op is a different kind of monitoring station that is run by alarm companies, for alarm
companies. As a not-for-profit business that's owned by alarm companies, their main focus is on keeping costs minimal while
offering the best service quality. They have plenty of the technology, experience, and perspective to provide the high quality service businesses deserve at reasonable prices.
Services
Here is a list of wholesale services that Monitoring America Alarm Co-op provides:
Security Monitoring
Life Safety/Fire Monitoring
PERS/Medical Alert Monitoring
Environmental Monitoring
Elevator Line
Area of Refuge / Area of Rescue
Video Monitoring
Wireless Communications & Interactive Services
IP Based Alarm Communication
Phone Based Alarm Communication
Reporting services
Internet / Telephone Service
Business Information
Monitoring America
3025 South 116th East Avenue
Tulsa, Oklahoma 74129
In conclusion, Monitoring America Alarm Co-op was made to bring a strong support system to alarm companies all over the country. With decades of success surrounding them, Monitoring America prides itself on it's equal and fair co-op system they have created. They created their organization with secure bylaws to ensure that no individual alarm company can ever obtain controlling interest in the operation due to the fact that they are limited to a single share of stock. This guarantees that each shareholder has an equal voice in electing the Board of Directors which oversees the operation at the highest level. It also provides the security for the voice of every involved alarm company to be heard. To learn more about this business, make sure to check out their Google reviews. 
Click here to return to the home page.