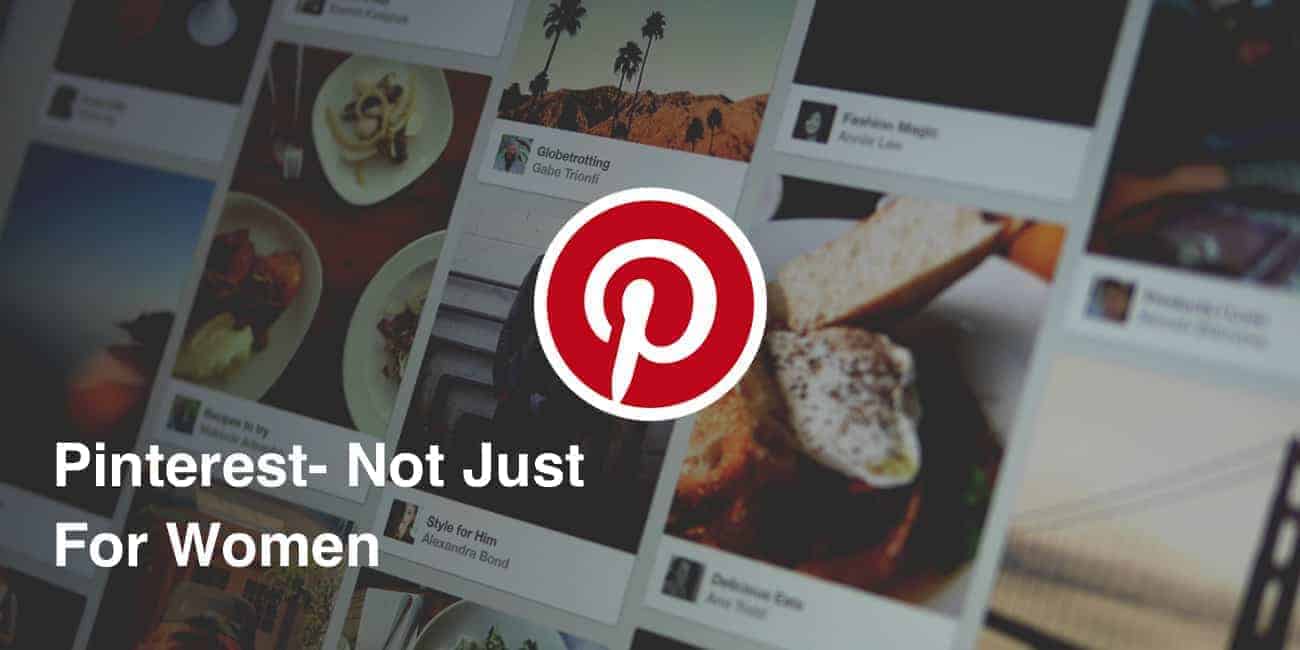 20 Mar

Pinterest- Not Just for Women
What's Pinterest and Who Is It For?
I ran into someone the other day who told me, "Oh, Pinterest… that's just for women." If you've ever looked at Pinterest, you might agree. But that would be shortsighted.
Pinterest is a photo sharing site that allows you to create your own boards – like a bulletin board where you can pin images of a certain topic. You can create any number of boards under your own profile.
Just for the purpose of explanation, let's imagine a young woman who is engaged to get married, who wants to have kids. She creates a profile and then adds separate boards for wedding dresses, wedding rings, hairstyles for her wedding, baby nursery ideas and so on. She selects images of dresses, rings, baby clothes and such that she would like to refer to later. It's sort of a "wish list."
Business Applications? You Bet!
The use of Pinterest and other image-sharing sites has a much wider application than a young women dreaming of her wedding. Let's look at some of the applications for small to medium size businesses.
Try this. Visit www.pinterest.com and use the search window in the upper left corner to look for images in the categories I talk about below. And then think about how you might be able to use images from your own business on Pinterest and similar sites.
Custom Cars:
If you want a real treat, go to www.Pinterest.com and do a search for images featuring custom cars. You'll find custom paint jobs, custom bodywork and some cards that are so unique they are unrecognizable. Even a search for "engines" will bring you plenty of results.
Landscaping:
If you're a landscaper, this is a great place to showcase your work. Homeowners will be looking in this category to get ideas for their yards.
Kitchens:
If you're a remodeler, place some pictures of your finished projects on Pinterest.
Fitness:
If you're a fitness instructor or have a gym, try a search for "fitness" and see how many results you get. Post pictures from your classes some "after" shots or images that contain your fitness advice in a text format.
Photography:
Give classes or lessons in photography? Post examples of shots your students took in your classes.
For categories like hairstyles, jewelry, clothing, furniture and similar subjects, it's easy to see how posting pictures of your work can reveal your talents.
Even a company that builds trade show booths can display their work on this site.
Why Post Images?
There are three reasons.
Business can come directly from the image. Someone likes a necklace they saw on Pinterest. Within a couple of minutes, the necklace is ordered- simply by following the link that was posted with the image.
Promotion. Someone who sees your work can track you down if you add your web address to the comments field. If your business is localized, add your city and state to the description field.
Strengthening your website. Google and other search engines take your other social media accounts into consideration when they are ranking the strength and authority of your website. If you have a strong Facebook page with plenty of "Likes" and your Pinterest images get "Liked" and shared by plenty of people, this popularity will strengthen your business website.
Photo sharing is part of the bigger world of social media. And taking advantage of the promotional opportunities in social media is part of the bigger world of search engine optimization. Here's a link to our Pinterest boards. Take look and get inspired to do this for your own business!