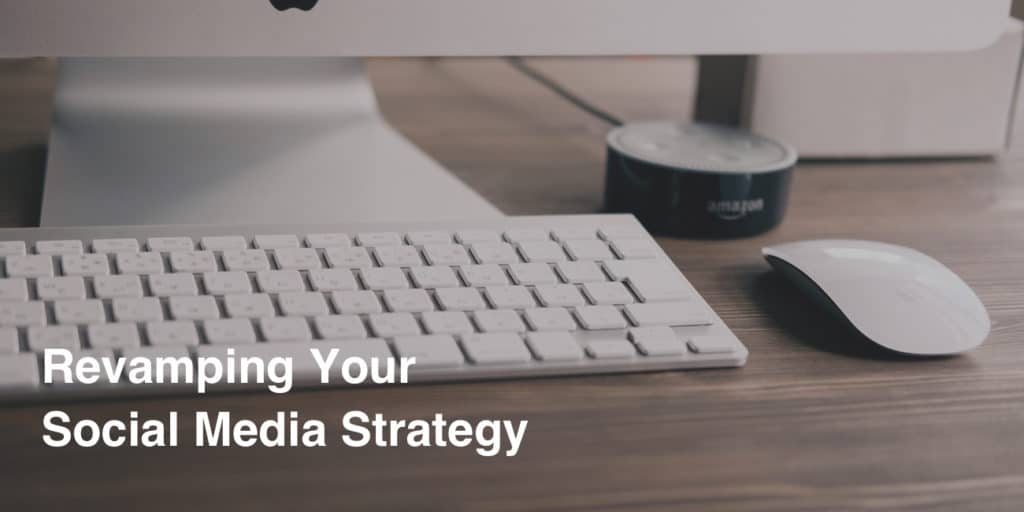 20 Sep

Revamping Your Social Media Strategy

Social media is a great tool for businesses – but that doesn't mean it's easy to use or be successful at! Many businesses, big and small struggle, with using their social media platforms.

If this happens to you, there's no need to panic. Simply step back, breathe and reevaluate your online presence.
Three Questions to Ask Yourself About Your Social Media:
Is your social media plan in alignment with your goal?
First of all, you need to make sure you've set a social media goal. If you're new to social media marketing, I always recommend you set ONE attainable goal to start with. Be realistic.
If you set more than one, it's harder to get organized and follow through. Also, you're more likely to crash and burn from trying to do too much.
If you don't have a goal, you can't know whether or not your social media efforts are successful. Begin by setting ONE goal.
Example: Gain 10 followers each month for the next year
Do you know your "Perfect Client"?
Another very important element to social media success is ensuring you are reaching the right people. In other words, does your content appeal to your "Perfect Client"? If you don't know who you are targeting, your social media efforts will fall flat. It will be too much trial and error and therefore wasted time.
Make an effort to know your perfect client now.
Not sure who you're reaching? We're here to help. Our team is experienced in building effective social media plans and can help you to determine the intended audience of your business on social media platforms.
Is your implementation in alignment with your goal?
How you implement your social media needs to directly lead to your goal. Here's a hot tip for implementation: Start with your goal and work backwards. If your goal is to sign on a client per week, map out how you'll be there on social media.
Answer the three questions above, but most importantly take action! Your efforts of planning and audience-targeting will be useless if you simply just think and not do. Adjust your social media strategy, then test and repeat if necessary.
You can build a strong social media presence with intentionality – think smarter not harder!