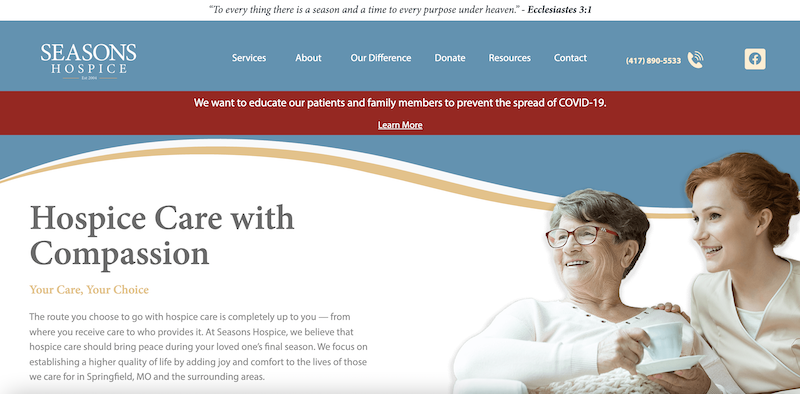 28 Jan

Seasons Hospice MO | Featured Business
About Seasons Hospice MO
You decide how you will use hospice care, from where you obtain it to who provides it. Seasons Hospice believes that final-season peace should be accessible through hospice care. We try to provide a higher quality of life for those we care for in Springfield, MO and the surrounding areas by adding pleasure and comfort to their lives.
What Sets Seasons Hospice MO Apart
For over a decade, Seasons Hospice has offered services to people in Springfield, MO and the southwestern Missouri region, including hospice care, caregiver support, and bereavement.
Our caring teams of doctors, nurses, specialists, and volunteers go above and beyond to make hospice care more comfortable for our patients and their loved ones. To us, patient care is about being kind, helpful, and uplifting — not just for our patients but also for their families and caregivers. We accomplish this by instilling our faith into our company culture.
Services
Here is a list of the areas of practice that Seasons Hospice MO provides: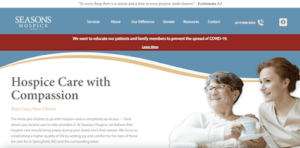 Hospice Care

Bereavement Services

Caregiver Support Services
Business Information
Seasons Hospice MO
In conclusion, Seasons Hospice provides complete hospice care, ranging from home hospice to respite care, grief counseling, caregiver support services, and more. Our ultimate objective is to relieve our patients' loved ones of stress so they can spend as much time together as possible—and hopefully make some time for themselves.
To learn more about this business, make sure to check out their Google reviews. 
Click here to return to the home page.