07 Feb

Seasons Hospice OK | Featured Business
About Seasons Hospice OK
Seasons Hospice was founded in 1998 to provide assistance to people who are facing the end of their lives with a terminal diagnosis. To better serve our northeastern Oklahoma community, we have expanded our hospice program since its inception in 1998. We are honored to assist you, as well as your family and friends, with the difficulties that hospice may present.
Our goal is to reassure our patients that they are not alone and that they are treasured and supported. Our top priority is to satisfy our patients' physical, spiritual, and emotional requirements.Our personalized, individualized care for your loved one is based on their unique preferences, beliefs and circumstances. This allows us to better understand your loved one and provide them with the finest level of palliative care available.
What Sets Seasons Hospice OK Apart
Seasons Hospice of Tulsa and Muskogee, OK think that the final season of life should be filled with happiness and vitality for your loved one. Our services are intended to offer comfort to our patients and their family. We also concentrate on alleviating the concerns and pressures that come with receiving care in a hospice facility. Season's Hospice of Tulsa and Seasons Hospice of Muskogee have dedicated our lives to caring for you and your loved ones.
Services
Here is a list of the areas of practice that Seasons Hospice OK provides: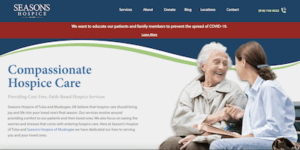 Hospice Care

Bereavement Services

Caregiver Support Services
Business Information
Seasons Hospice OK
In conclusion, we treat your loved one like family when he or she is placed in our care at Seasons Hospice. We think that all of our patients are unique and essential people, and we treat them with the greatest respect.When you pick Seasons Hospice, you are choosing for the best care for your loved one. You may rest confident that your companion will be given the greatest possible care with a Seasons Hospice facility in Tulsa or Muskogee.
To learn more about this business, make sure to check out their Google reviews. 
Click here to return to the home page.