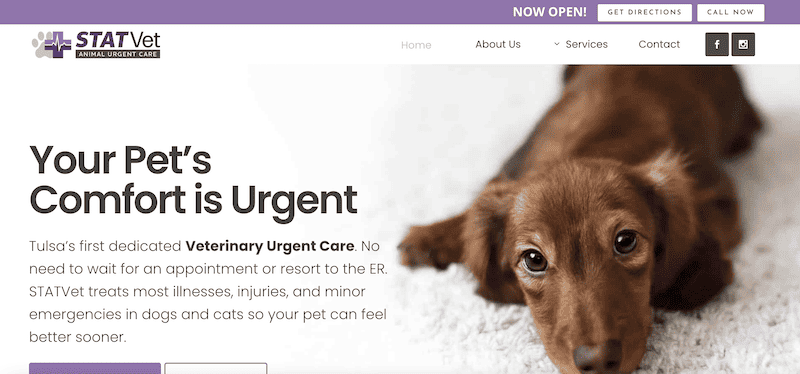 08 Jun

STATVet Animal Urgent Care | Featured Business
About STATVet Animal Urgent Care
STATVet is a walk-in clinic for animals that offers treating most ailments, injuries, and minor emergencies in dogs and cats without the need for an appointment or using the emergency room. Treatments are offered at STATVet to help your dog or cat feel better faster. No more waiting for an appointment or resorting to the emergency room.
The goal of STATVet is to supply timely and accessible urgent care for pets in the Tulsa Metro region. In recent years, demand for veterinary services has exploded, with pet owners reporting longer wait times at animal ERs or being unable to get an appointment with their regular veterinarian. We're here when your pet needs a doctor.
What Sets STATVet Animal Urgent Care Apart
During your pet's stay, you will meet with a qualified emergency veterinary nurse who will observe and treat your pet during the examination and therapy phases. Our objective for you is a friendly face that knows the ins and outs of your animal's case from start to finish.
Services
Here is a list of the services that STATVet Animal Urgent Care provides: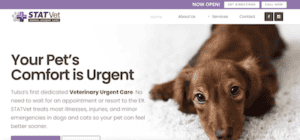 Bloodwork

Cremation and Aftercare
Euthanasia
Quality of Life Consultations
Surgery
Ultrasound
X-Rays
Business Information
STATVet Animal Urgent Care
Address:
2702 East 15th Street Tulsa, OK 74104
In conclusion, no prior appointment is necessary. We provide flexible weekend and late-night hours that fit with your schedule. All medical records will be sent to your family veterinarian so he or she may resume care when the office is open again. Clients are encouraged to take an active role in their pet's healthcare by finding a treatment plan that meets their requirements.
Click here to return to the home page.