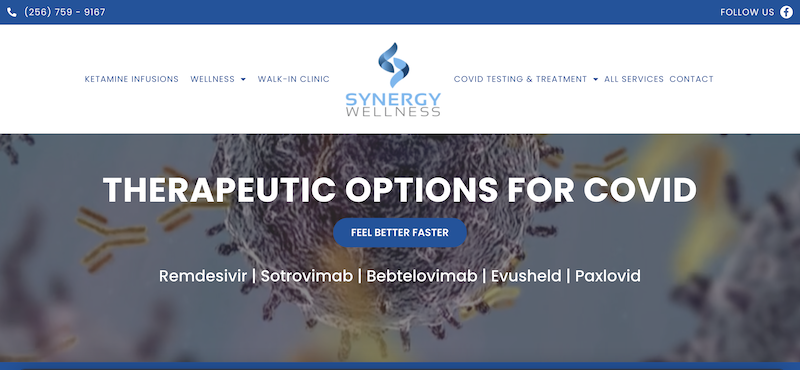 22 Mar

Synergy Wellness | Featured Business
About Synergy Wellness
As the name implies, we at Synergy Wellness aim to enhance your health and happiness through holistic medicine and cutting-edge science. Synergy Wellness began as a clinic dedicated to the pursuit of wellness and health, founded by board-certified Emergency Physicians. Synergy pivoted quickly during the COVID-19 epidemic to serve the Huntsville region, becoming one of the first clinics to provide rapid COVID antibody and antigen testing as well as vaccines and monoclonal antibody treatments. We are honored to have had an impact on thousands of Alabamians throughout this unforgettable pandemic year.
What Sets Synergy Wellness Apart
During the last year, many of us have gained weight and become physically and metabolically unhealthy, suffering from mental health difficulties such as depression, anxiety, and addiction. Synergy Wellness is developing strategies to assist you maintain a healthy and happy lifestyle while adjusting to the "new-normal" in light of life's changes ahead of us.
Services
Here is a list of the pest services that Synergy Wellness provides: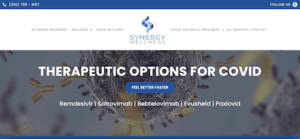 Ketamine Infusions
IV Vitamin Therapy
Aesthetics
Women's Wellness
Routine Gynecology
Medical Weight Loss
Hormonal Replacement Therapy
Medication Assisted Therapy
Covid Testing & Treatment
Sedation Dentistry
Walk-In Clinic
Business Information
Synergy Wellness
Address:
Jones Valley
7105B Bailey Creek Circle
Huntsville, AL 35802
MidCity
4820 University Drive Suite 35
Huntsville, AL 35816
In conclusion, if you are searching for a solution to your health struggles, Synergy Wellness is ready to help! From Monoclonal Antibody Therapy to Ketamine Infusions, Synergy Wellness will work hard to help you to feel your best.
To learn more about this business, make sure to check out their Google reviews. 
Click here to return to the home page.