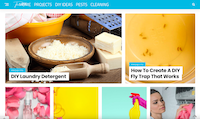 15 Nov

That's DIY | Featured Business
About That's DIY
Matt and Lindsay founded this blog to share and create a space to share their thoughts and ideas on DIY. They are taking on a variety of DIY topics including crafts, home cleaning solutions, hair and all types of other related topics.
The purpose of That's DIY is to provide easy to understand DIY techniques to use around the home or any aspect of communicating their message. They want to help you find and use the tools will further the goals.
What Sets That's DIY Apart
That's DIY is a blog site run by married couple Matt and Lindsay. Together, they create articles to help the average person navigate the home sphere better. By providing DIY solutions to everyday home problems, they can help you save time, energy, and money!
Not every person has the means to access commercial pest control, cleaning services, or repairs. That's DIY is intended to be a jumping off point for people looking to make their everyday lives just a bit easier.

Services
Home help articles
DIY pest control solutions
DIY hair care
DIY cleaning solutions
DIY crafting ideas
DIY makeup
Business Information
That's DIY
755 W New Orleans St, Broken Arrow, OK 74011
Conclusion
That's DIY is happy to be your guide to everything and anything home help related. Whether you are struggling with weeds in your flowerbed or how to get the best beachy wave in your hair, That's DIY is here to help. Their blog covers a variety of topics to help make your life run smoother and easier.
Additionally, the founders, Matt and Lindsay, are open to any article suggestions you may have! If you have a specific topic in mind and are not able to find any help online, write in a suggestion. Matt and Lindsay will research the topic for you to write a well-informed article.
They hope that their blog will be a one-stop shop for all things DIY. Check it out today!