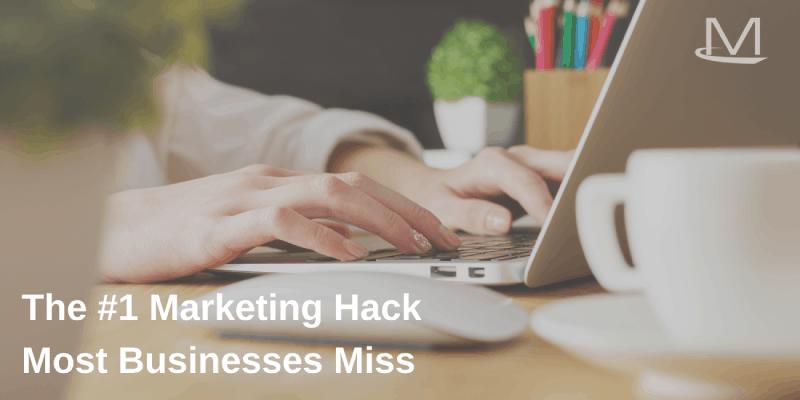 19 Feb

The #1 Marketing Hack Most Businesses Miss
Top Marketing Hack Overlooked By Most Businesses
As a business owner, it is important to stay on top of the latest marketing trends and techniques – especially if they are budget-friendly! We know of the importance of social media, brand awareness, and other common marketing tools such as email marketing. However, many businesses overlook what may be the most important marketing hack of them all! 
So, what is the #1 marketing hack most businesses miss? Perhaps the most overlooked marketing technique is the implementation of Google My Business Reviews and Listings. This free resource provided through Google increases your business's visibility to the local market, shares important information, and acts as an accessible platform for customer reviews.
With so many incredible benefits, why are so many businesses overlooking this budget-friendly marketing hack? We believe that they simply do not understand how to harness the many benefits of Google My Business as part of their marketing strategy.
In this month's blog post, we will share the importance of utilizing Google My Business listing and reviews in your business. We will also provide you with a few simple steps from improving your marketing through Google My Business. By harnessing the power of this free marketing platform, you can generate greater interest in your business without spending thousands of marketing dollars.
The Importance of Google My Business Listings & Reviews
Long gone are the days of looking up a business in the phonebook and blindly walking into their storefront. Today, consumers are likely to research your business online to get a better feel for the services or products you provide. 
What happens when you search for a local dog grooming business on Google? A list pops up featuring several local dog grooming businesses along with their contact information, location, and even review from customers! Most consumers select a dog groomer from this list, oftentimes opting for the groomer with the highest reviews. 
While your dog grooming business may be superior to the one that is featured on Google's list of local groomers, the potential customer is unlikely to locate your information. Without accessible reviews, they are unable to gain insight into the quality of service you provide. This is the importance of maintaining Google My Business listings and review for your business!  
What is a Google My Business Listing?
So what exactly is a Google My Business listing? This free marketing tool allows business owners to display important information about their business on Google Search and Google Maps. This listing contains the business's name, location, contact information, hours of operation, and a link to their website. 
Additionally, a Google My Business listing features an accessible platform on which customers can leave reviews or ask questions about your business. Creating or verifying your Google My Business profile is a critical part of your local SEO (search engine optimization) strategy! 
A Google My Business listing makes it easy for potential customers to find information about your business, hopefully leading to a sale. For this reason, you must provide accurate information about your business that is updated regularly. As a general rule, the more information you can share about your business through your listing, the better! 
How Does Google My Business Improve Local Marketing?
Google My Business can play an integral role in your local marketing strategy. Here are just a few of the benefits this platform provides:
Google My Business Increases Your Business's Visibility
In the example we shared about the dog grooming business, we explained how a Google My Business listing leads to an increase in traffic to your business. Perhaps one of the greatest benefits of this marketing strategy is that it increases your business's visibility to the local market. By providing your business's information in an accessible way, you make it easier for potential customers to learn about the services or products you offer.
Google My Business Allows You to Easily Share Information
Social media is a great way to share information with your customers or individuals who have already connected with your business. But what about potential customers who do not yet follow your business on social media platforms? How do you share important information with this group of individuals? 
Through your Google My Business listing, you can easily share information about your business including updated hours, unexpected closings, and exciting announcements! 
Google My Business Provides a Platform for Customer Reviews
As business owners, we understand the impact of customer reviews. It has been estimated that up to 90% of potential customers read online reviews before they contact your business! Without an easily accessible platform, customers are unlikely to leave reviews for your business, something that could impact future traffic from new customers. With a Google My Business listing available, getting Google Reviews is a simple and streamlined process.
How Do Google Reviews Help Your Business?
According to Google My Business, "Reviews on Google provide valuable information about your business to both you and your customers. Business reviews appear next to your listing in Maps and Search, and can help your business stand out on Google."
Think about the last time you were researching a business, restaurant, or service provider. Most likely, you took some time to read through their reviews and get a true sense of what working with them is like. Google Reviews provide a window into the (hopefully) positive experience that you provide for your customers! 
Important Statistics About the Importance of Online Reviews
Are you not yet convinced of the importance of online reviews? Here are some interesting statistics on the topic: 
Up to 90% of potential customers read online reviews before visiting a business.
About 88% of individuals trust online reviews as much as personal recommendations.
Customers spend about 31% more on businesses with "excellent" Google reviews.
Over 90% of potential customers will use a local business if it has a 4-star rating.
Over 70% of potential customers will take action ONLY if they find positive reviews.
These statistics are quite eye-opening to the importance of online reviews for businesses! With the help of Google My Business, you can easily collect reviews from past customers. These reviews not only provide important insight into your business for potential customers but also offer you insight into areas in which your business could improve.
Easy Ways to Improve Your Google My Business Reviews
Google Reviews are an important part of small business reputation management. As stated by Google My Business, "Reviews are only valuable when they are honest and unbiased. (For example, business owners shouldn't offer incentives to customers in exchange for reviews.)"
While we certainly hope for positive reviews, we understand that not every customer will have nice things to say about their business. It is important to handle these negative reviews appropriately, building trust between your business and other customers. 
As you are starting to build your local reputation through Google My Business reviews, you may be discouraged by the small number of reviews left on your profile. Fortunately, there are several easy steps you can take to improve your Google My Business reviews. 
Verify Your Business on Google
While most businesses will need to create their Google My Business listing, other listings are automatically-generated. If your business has an automatically-generated listing, you will need to verify your business, claiming it as your own. Doing so will allow you to respond to reviews, update your listing, and provide the latest contact information. 
Once you have verified your business's listing, it is eligible to appear on Google Maps, Google Search, and other Google services. However, the most important reason to verify and optimize your Google My Business listing is so that you can respond to reviews.
Ask Your Customers to Leave Google Reviews
Don't be afraid to ask your customers to leave a Google review following a positive experience! Many times, individuals are more than willing to take a few seconds to share their experience with their business. If you follow-up with your customers following their service or purchase, ask for a review during this call or email. 
Other ways to ask for reviews include adding a link to the bottom of your marketing emails or making a post to your social media platforms that includes a link to your business's Google My Business page.
Reply to Every Review Your Business Receives
It is easy to respond to five-star reviews left by satisfied customers. However, negative reviews present a greater challenge. You must respond to online reviews, both positive and negative. 
In every industry, you are bound to experience a dissatisfied customer from time to time. Whether due to a misunderstanding or other mishap, you must handle this situation with grace and excellence. 
Although your first response may be to delete the comment without a second thought, this will likely reflect poorly on your business. Instead, respond to the negative feedback with actionable steps for resolving the problem. In doing so, you will be able to mend the relationship as you build trust with your community. 
Implementing Google My Business Listings & Reviews
Are you unsure of where to start with this budget-friendly marketing strategy? At McWilliams Media, we are passionate about helping businesses harness the power of Google My Business listings and reviews. If you are interested in learning more about our services, schedule a free strategy session today!