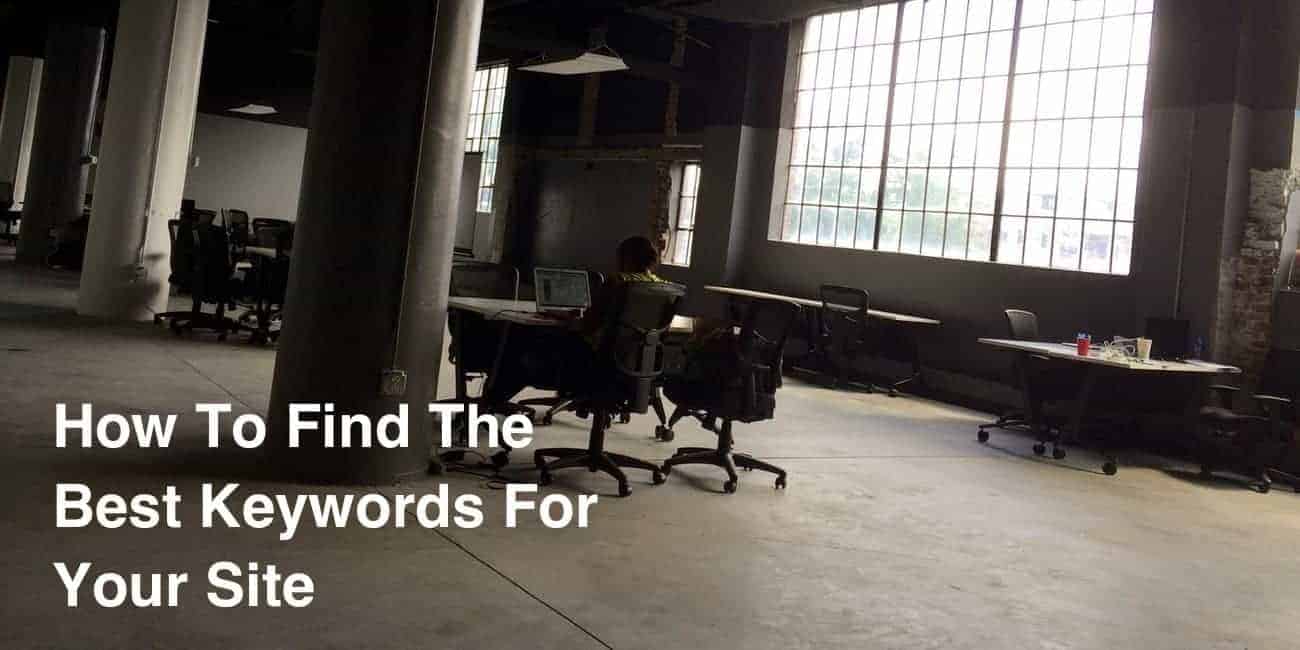 14 Oct

How To Find The Best Keywords For Your Site

If you've been in business for any amount of time, you know your product or service better than most of your customers, right? It's only logical that if you have more knowledge and understanding of your industry, you'd use different words to describe your services than an inexperienced person would.

Whether they are new to the solution you present or to your entire industry, these people may not know the fastest and most direct way to search for your business on the internet.

Many business owners assume their customers know how to search for their business. However, many analytics reports show that customers are searching for businesses in inefficient ways. It's not that potential customers aren't searching for you with the search terms you have in mind – it's that there are so many other keywords they're using – keywords you don't want to miss out on because you're only focused on a few main ones on your website and SEO efforts.

It's important to constantly be coming up with new keyword ideas to attract visitors to your site in a more productive and straightforward way.

I'm going to break down five points to consider when brainstorming new keyword ideas. To bring these ideas into the real world, I'll provide a couple of examples of mock companies to illustrate each of these categories – a dog grooming company and a bicycle shop.
1.  Products & Services
This is the most obvious category of keywords, and more than likely you are already targeting these keywords.
Some examples of these keywords for a dog grooming company would be:
–     Dog groomer
–     Dog grooming service
–     Puppy bath
For a bicycle shop, these keywords might be:
–     Schwinn bicycle
–     Buy a bike
–     New bicycle seat
Hint: If you've added new products or services since your website was last updated, it might be time to add some fresh content targeting keywords to describe your new good.
2.  Problems
If you're in your ideal prospect's shoes, what problem are they looking to solve? The truth is, people have a variety of problems that your products or services can solve. That creates a wealth of new search terms you can utilize to bring them to your door.
Going back to our two examples here, these are some possible problems a user might be trying to solve by looking for a dog groomer:
–     Stinky dog
–     Dog nails scratch
–     Puppy fur matted
And in the example of the bicycle shop, here are some problems users might be trying to solve:
–     Exercise for bad knees
–     Alternatives to running
–     Stubborn fat
If you were to break down each and every product or service you offer, starting with one that is the most important or lucrative for your business, you could make a list of problems your customers might have that would lead them in your direction. You could then target each and every one of those problems with fresh content.
3.  Benefits
To flip the above scenario, what benefits would a searcher be looking for?
A dog groomer might offer benefits like:
–     Clean dog
–     How to make puppy smell good
–     Cute labradoodle haircut
Whereas a bike store might offer benefits like:
–     Bicycle coupons
–     Soft bike seat cushions
–     Lose weight without dieting
Similar to the problems above, you can probably think of a number of benefits for each of your products or services. With content focused on these benefits, you'll meet your customers where they first start looking for help.
Most often, people are looking for general help rather than specifically looking for your product to solve their problems. By putting your company in front of them as soon as they start their search, you maximize your business opportunity.
4.  Features
It's common knowledge in marketing to not sell on features, only on benefits. But when people are searching online, searching by features can be a sign that they're much closer to the sale. It might be a good idea to target feature-based keywords for your business.
Features for a dog groomer might be:
–     Dog grooming service near me
–     Labradoodle groomer
–     Show dog groomer
Whereas features for a bike store might be much more specific:
–     Tango Tandem Schwinn Cruiser
–     Blue cheap bicycle
–     26" bicycle wheels
It's possible there are key features of your products that aren't already represented on your website.
5.  Competition
More than just trying to edge out your competitors, there are ways you can use competition to your advantage.
Rather than trying to beat Wal-Mart's prices on dog shampoo, write an article that shows how time-consuming and expensive washing your own dog is compared to bringing them to a doggie salon.
And if you sell Schwinn bikes, you might not be able to convince someone who's only concerned about price that yours is the best bike for them. How about tackling competition like a treadmill instead? An article titled, "Why Biking is Better for You Than Running" is likely to pique interest from someone who may not even have realized they were in the market for a bike.
Finally, you might want to search on Google for descriptive keywords about your services. You can take a look through the top results to isolate your biggest competitors. Then you can see what they're doing that's working in terms of keywords, headlines, etc.
Don't have any real competitors in your area? (Lucky you!) You can step up your research a notch by selecting a highly competitive market like Los Angeles or New York City to conduct your searches on Google. By doing a quick examination of these top competitors' sites, you can start to see trends and successful actions that you can perhaps expand on, to show potential customers why your products and services are their best choice.