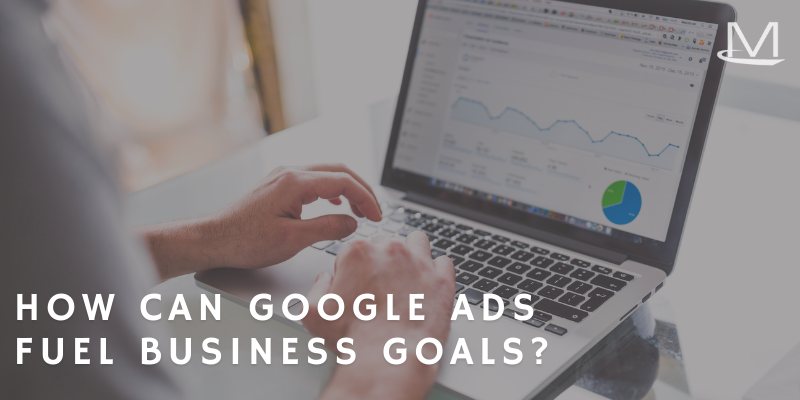 20 Oct

How Can Google Ads Fuel Business Goals?
Using Google Ads for Small Business Growth
In today's digital age, there are countless ways to advertise your business online. As a small business owner, every advertising dollar must be carefully thought out. Your marketing strategy must prove effective. We believe that Google Ads are one of the most impactful marketing strategies for small business growth.
So, how can Google Ads fuel business goals? Google Ads can help you drive more traffic to your website, increase customer engagement and improve conversion rates. Google Ads allow businesses of all sizes to directly target their relevant audience based on location, demographic, or interest. Google's Ad program is one of the most affordable and powerful marketing tools available in today's digital advertising sphere.
In this post, we will talk about how Google Ads can fuel your business goals by helping you reach your target audience through online advertising!
What Are Google Ads?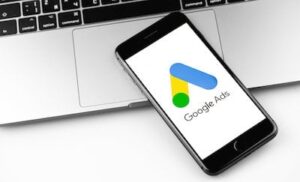 Google Ads is Google's advertising platform that allows businesses to create text ads, image ads, and video ads across Google's network of products. This platform gives advertisers access to Google's vast audience for their advertisements.
Google Ads allow business owners the ability to customize their ad campaigns with a variety of settings and options for targeting audiences based on demographics, locations, interests, behaviors, or connections.
Google Ads also gives advertisers the ability to control how much they spend on Google's advertising network.
What Makes Google Ads Unique?
Google Ads provide advertisers with a powerful and effective way to reach their audiences. Google's search engine is one of the most popular platforms in the world. Because of this, Google Ads give businesses access to an enormous audience at any time or place.
Google also allows business owners to create remarketing campaigns that target people who have already visited your website.
Another reason Google Ads are unique is that they are not charged based on impressions or views. They only charge you when a person clicks through your ad to visit your website. Google Ads is an effective and affordable way for businesses of all sizes to advertise online!
How Google Ads Work
Google Ads works by placing ads on Google Search, Google Maps, and other Google websites. When a user searches for specific keywords, Google displays the most relevant ad to that search query in an Adwords space at the top of their results page.
Google Ads also allows you to display your business' website directly to potential customers when they are searching for related topics or terms online through Google's Paid Results program.
How Are Google Ads Used?
Small business owners can use Google Ads for a variety of reasons, such as lead generation, customer acquisition, and brand awareness. Google Ads allows businesses to create powerful advertising campaigns based on these business goals:
Lead Generation Google Ads
Customer Acquisition Google Ads
Brand Awareness Google Ads
The customization potential of Google Ads makes them incredibly versatile for any industry or business goal.
Business Goals You Can Achieve With Google Ads
There are several ways small business owners can use Google Ads to fuel business growth. We believe that with all the targeting options available, there's no limit as to what kind of success your business will achieve using this advertising platform!
Here are some examples we think work best for most businesses who want to increase their online presence through Google Ads:
Lead Generation For Your Small Business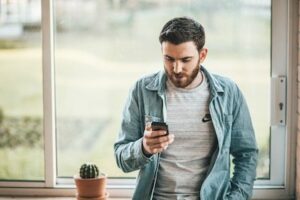 If you're looking for ways to generate leads from potential customers, then consider running an ad campaign focused around lead generation.
This option allows advertisers the opportunity to showcase products and services to entice users into giving out their contact information.
Google's algorithmic signals determine the ads that will be displayed based on how relevant they are to a user's search query. Because of this, your business has an even greater chance of being seen by potential customers!
Customer Acquisition For Your Small Business
If you're looking for ways to increase customer acquisition and brand awareness among new audiences, then consider running Google Ads focused on driving traffic from outside sources through Google Maps or Google Search results pages.  
This option allows advertisers to reach more relevant audiences with their ad campaigns to attract them towards using their products and services. Brand awareness is important when it comes to attracting new users who may not already know about your company. Google Ads helps expand into different markets while increasing brand recognition.
Brand Awareness For Your Small Business
Google Ads are also an effective way to increase brand awareness among your existing customer base. Google Ads can be used as a platform for engaging current customers with relevant updates, messages, and information about the latest products or services offered by your company.
This option allows advertisers to show their audience that they're actively engaged in providing them with quality content through Google's advertising network!
Increase The Reach Of Your Website
Google Ads is one of many options available for businesses that want to expand their reach online. Google aims at placing ads where users will see them most frequently.
This makes this ad platform perfect for reaching out beyond your website traffic towards potential new audiences. If you have already established a good presence on the web, Google Ads is a great way to get your website in front of additional web users.
Advertising Options For Google Ads
Google provides users with four different types of ad formats: text, image, local, and video! Your ads can appear on Google search results pages. They can also appear on other Google content such as YouTube videos or Google Maps, to name a few.
This makes it easy for businesses across all industries to start advertising online through Google's many channels of distribution.
Google Ads is a versatile platform that can be tailored to suit any business goal. This platform makes it easy for small businesses with limited budgets to start advertising on Google's ad network by providing helpful tools and guides, as well as best practices for getting the most out of your Google Ads campaign!
Google Ads vs. Facebook Ads for Business Growth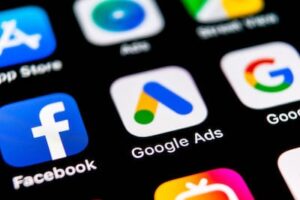 In general, Google Ads are more effective at reaching out to potential customers through Google Maps or Google Search results. Facebook ads, on the other hand, work better for businesses that want to create targeted advertisements in News Feeds.
Several studies over the years have shown that Google Ad campaigns generate the highest number of leads when compared with other platforms like Bing and Facebook.
Google is also an excellent platform for small business owners. This is because it allows them to start advertising affordably on their network right away.
How to Choose An Online Marketing Strategy For Your Business
As we touched on previously, there are countless ways to advertise your business online. How do you know which online marketing strategy is best for your business?
Although there is seemingly endless information online, the best way to choose an effective digital marketing strategy is to talk to a professional. A team that specializes in the area of online marketing will be able to look at your business goals, budget, and demographics. Using this information, they can create a custom strategy that works for you!
Using Google Ads to Meet Your Business Goals
Google Ads are a valuable tool for businesses looking to increase their online presence while reaching out beyond your website traffic. Google's ad platform provides advertisers with numerous options to meet their unique business goals.
At McWilliams Media, we are passionate about helping small business owners implement Google Ads both effectively and affordably. Our team of experts will help you identify your business goals, creating a marketing strategy that will help you achieve incredible growth in your business!
Are you ready to implement Google Ads to fuel your business goals? Contact our team today to schedule your free strategy session!