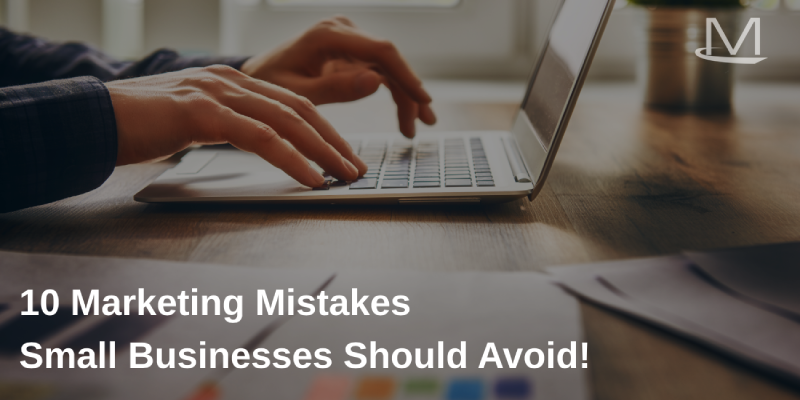 20 May

10 Marketing Mistakes Small Businesses Should Avoid!
Common Marketing Mistakes Made by Small Business Owners
As a small business owner, you hold many titles. In addition to making important decisions, leading your staff, and dreaming up new ideas, many small business owners are also responsible for marketing their business! With little extra time to dedicate to marketing, innocent mistakes are made. Unfortunately, many of these common marketing mistakes could be costing your business thousands of dollars in lost revenue! 
So, what are some of the most common marketing mistakes made by small businesses? A few of the most common marketing mistakes include inconsistency across online platforms, ignoring negative reviews, having unclear goals, failing to maintain your website, and ignoring your existing customers.
These are, of course, only a few of the marketing mistakes that are common among small businesses. In this post, we will discuss these, and other, common marketing mistakes. Most importantly, we will share how you, as a small business owner, can avoid these costly mistakes!
1. Inconsistency Across Online Platforms
It may not seem like it directly impacts your marketing. However, inconsistency across online platforms is one of the most common marketing mistakes made by small businesses. Your business likely has a presence on several online platforms including your website, Facebook, Google My Business, and more. (And if you don't have an online presence, you should!)
Inconsistency appears in many forms. It may appear as inconsistent branding images, colors, or fonts. You may have inconsistency in your contact information, hours of operation, or other crucial data. Unfortunately, some businesses even advertise inconsistent pricing! 
More often than not this inconsistency is simply an oversight. When you are updating any information or branding on one online platform, be sure to follow suit to ensure consistency across your online presence.
2. Ignoring Negative Reviews
We have all experienced our fair share of negative reviews. Even if you do everything right, there will always be one unsatisfied customer. Unfortunately, unsatisfied customers are much more likely to leave an online review. It is tempting to delete or ignore these negative reviews. This, however, is not the right approach! 
Instead of ignoring negative reviews, consider using a Reputation Management tool that allows you to respond quickly and efficiently. Not only will this help you address unsatisfied customers but it will also display your professionalism to both current and potential customers.
3. Failing to Maintain Your Website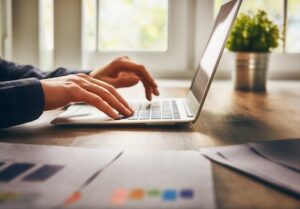 Launching a website is often one of the first steps in starting a small business. Too often, this website remains the same for several years as other areas of the business get important upgrades. Your website must continue to grow with your business!
Conduct an annual review of your website, addressing any updates that need to be made. A few of the most impactful updates you can make to your website include updating contact info, adding updated images, and ensuring that your website performs well on mobile devices.
It is helpful to work with a website design company that can help to point out any adjustments that would portray your business more favorably. In addition to providing a more streamlined, professional-looking website, a website design company can assist you in implementing SEO techniques, something that will have a great impact on the traffic that visits your website.
Here are 10 signs it's time to refresh your website! 
4. Focusing On Only One Area of Marketing
There is no budget as tight as that of a small business. Budget restraints often force small business owners to focus on only one area of marketing. The best marketing strategy, however, is multifaceted. It is wise to split your marketing budget between at least two forms of marketing such as online marketing and more traditional methods.
5. Dismissing Social Media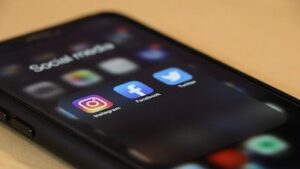 Social media is not just for fun! As a small business owner, one of the best tools for marketing is social media. This inexpensive, and oftentimes free, form of marketing can be used to not only advertise your business but to expand your community.
If you do not currently utilize social media for your business, consider joining at least two or three platforms that are relevant to your target market. A few of the best social media platforms for business include Facebook, Instagram, and Twitter. It is important to maintain your presence on these platforms by consistently posting relevant, high-quality content.
6. Having Unclear Marketing Goals
To effectively market your business you must have clear goals! Too often, business owners begin marketing without a clear picture of what they are trying to accomplish. Are you trying to attract new customers? Who is your target market? Asking important questions such as these will help you spend every dollar of your marketing budget in the most effective manner possible.
7. Targeting Too Broad of An Audience
As a business owner, you must understand that your products and services are NOT for everyone. Who is your target market? Many times, businesses target too broad of an audience, wasting money on individuals who are not likely to engage with your marketing. 
Narrow down your target marketing and focus on ways that you can cater to them more effectively. This will prevent you from wasting money on broad marketing strategies with little return on investment. 
8. Falling Behind Current Marketing Trends
Marketing, like many other areas of business, is constantly evolving. What may work well for a year or two may stop providing the results you once hoped for. For this reason, you must remain updated on current marketing trends – especially when it comes to online marketing! 
This proves challenging for most small business owners who may be overwhelmed, overworked, or simply uninterested in following current trends! The best way to stay current on the latest marketing trends is to partner with an online marketing firm that can guide your strategy.
9. Ignoring Your Existing Customers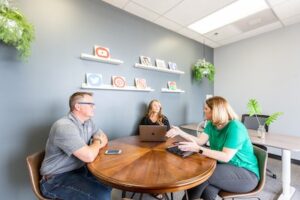 The focus of marketing is too often on acquiring new customers. While this is certainly important to the growth of your small business, there is another group of individuals that are often ignored! One of the greatest marketing mistakes made by small business owners is to ignore existing customers. 
There are many ways to engage your customers continuously through social media marketing, email marketing, special events, and more. Another way to engage your existing customers is to take advantage of their positive experiences! Consider offering a special deal for customers who refer new customers to your business. 
By continuing to build your community of customers in this way, you can save money on marketing expenses as you experience growth in your business.
10. Failing to Outsource Small Business Marketing
Finally, perhaps the greatest marketing mistake made by small business owners is failing to outsource. With so much on your plate, it is important to seek out the help of marketing experts to make the most of your budget. 
Marketing strategies, especially when it comes to online marketing, continue to evolve. The most effective and efficient marketing strategies require regular oversight and adjustments. By outsourcing this area of your small business to a professional marketing firm, you gain the benefit of years of experience in this area. 
Create a Successful Marketing Strategy for Your Small Business
The most successful small business marketing strategy is one that is well thought out and executed properly. We have a team of experts ready to partner with you to stretch your marketing budget, providing you with the results you desire! Whether you are looking to revamp your website, pursue social media marketing, or simply ensure that your branding is consistent across your online presence, our team is ready to assist you! 
Contact our team today to schedule your free strategy session!