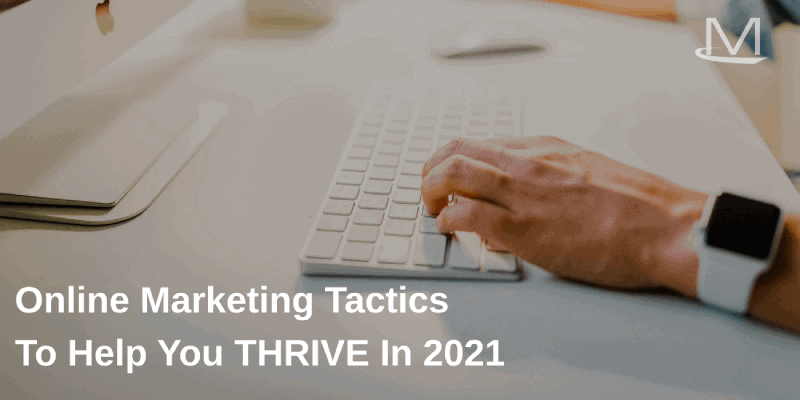 20 Jan

Online Marketing Tactics To Help You THRIVE In 2021
Best Online Marketing Tactics for Business in 2021
Whether 2020 was your worst year in business or your best one yet, it is a new year! As a business owner, it is important to take time to strategize for the coming year. Establishing an effective strategy for 2021, specifically in the area of online marketing, will ensure that you are set up for success regardless of what this year brings. But with online marketing tactics constantly evolving, how do you know where to focus your efforts? That's where we come in! 
What are some of the best online marketing tactics for businesses in 2021? There are countless tactics for marketing your business online in 2021. However, some of the best strategies include optimizing and upgrading your website, utilizing email and social media marketing, investing in search engine optimization, and incorporating Google Ads into your marketing.
Reading a list like that may seem a bit overwhelming. Where should you start? Is it better to focus your efforts and resources on one area of online marketing or should you incorporate other aspects as well? In this post, we will share some tips on how to develop an effective online marketing strategy using these top tactics. 
We will also discuss how some of the best 2021 online marketing tactics can benefit your business! We hope that this information will inspire and encourage you as you approach a new year in your business.
Developing an Effective Online Marketing Strategy
The effectiveness of any online marketing tactic depends heavily on your strategy. To achieve success, you must first develop a comprehensive strategy. Having a clear picture of where you would like to see your business in the coming year will help you determine where to focus your efforts in the realm of online marketing.
Your Online Marketing Strategy Must Reflect Your 2021 Goals
Online marketing without a plan will result in a less than desirable outcome. For this reason, we recommend that you first establish your 2021 business goals before approaching your online marketing strategy for the coming year. Using your business goals, you can implement online marketing tactics in a way that will help you achieve and even exceed your goals! 
Your Online Marketing Strategy Should be Multi-Faceted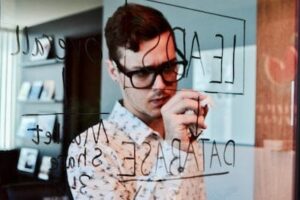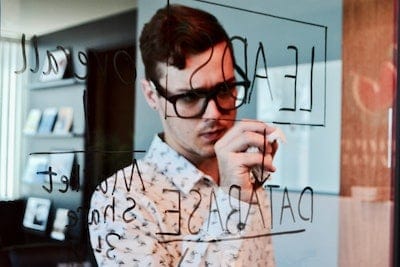 Because many areas of online marketing are so foreign to the majority of business owners, many individuals choose to focus on only one area. This limits the amount of impact you can make and will not provide you with the results you desire. 
For the greatest impact, your online marketing strategy for 2021 should be multi-faceted. Now, it is important to note that you can easily spread yourself too thin. Two or three online marketing tactics implemented effectively will result in a greater impact than five or more tactics that are executed poorly. 
Many business owners choose two or three online marketing tactics to focus on during the first quarter of the year. At the end of each quarter, they reflect on their process, implementing an additional tactic into their strategy as they see fit. This can be a great way to slowly introduce effective online marketing tactics into your business. 
2021 Online Marketing Tactics for Your Business
Once you have set your business goals for 2021, it's time to start thinking about the various online marketing tactics that you wish to implement in the coming year. This can be intimidating to many business owners. During this process, you may find great value in partnering with a media company that specializes in online marketing.
A team of professionals will be able to look at your goals and recommended online marketing tactics that will help you achieve these goals while sticking to your budget. As you set your online marketing strategy for 2021, review the tactics you used in 2020 and how they benefited your business. In what area did you see the most success? Was there an area of online marketing that you feel was a waste of your resources? 
Asking yourself these questions is a great way to determine your priorities for the coming year. 
Optimize & Upgrade Your Website
The primary goal of any online marketing tactic is to direct traffic to your website or physical storefront. However, without a user-friendly, engaging website, even the best marketing strategy may be for naught. 
At the beginning of each year, conduct a thorough review of your business's website. Update the photography using professional images, ensure that your contact information, pricing, and service guides are correct. Work with a website design company to optimize your website, creating the most user-friendly experience possible! 
In today's social age, most potential clients will first visit your website to get a feel for your business and to learn more about the products and services you provide. Your website must communicate these messages in a way that is accessible and engaging. 
Utilize Email Marketing to Connect With Your Community
Perhaps one of the oldest forms of online marketing, email marketing continues to be the most powerful tool when it comes to online marketing in 2021. Email marketing, when done correctly, is an incredible way to connect with your community, share news and updates regarding your business, and encourage sales from both new and existing customers. 
The types of emails you send to your community will depend greatly on the type of business you operate. You must be providing value through these emails, not simply soliciting sales. Emails should be sent consistently while not overwhelming your community with constant communication.
If you are just starting to use email marketing in your business, we recommend aiming for one to two high-quality emails per month. The emails you send to your community reflect your business. Be sure to use engaging images, proper grammar, and include valuable information. 
Think about the ways you can educate your community through email marketing. Do you have educational or engaging videos you could repurpose for your monthly emails? Blog posts with information about your products or services are also a great way to add value to your email blasts.
Learn more about how to use email marketing effectively here.
Review Your Social Media Marketing Strategy
Almost every business has some type of social media presence. And, if you don't, you should! From Facebook, Twitter, and Instagram to professional platforms such as LinkedIn, social media is a great way to engage with your community and attract new customers. Through social media, you can share your business's values, culture, and beliefs. 
One of the greatest benefits of social media marketing is that it is free to use! However, there are many incredible ways to leverage social media such as Facebook Ads which have proven to provide great results for small businesses.
Consistency is key with social media! As with many other areas of marketing, it is better to produce consistent, high-quality content than frequent content that is less than engaging. If you struggle to stay consistent with social media or wish to implement a paid strategy such as Facebook Ads, it is wise to partner with a social media marketing agency! 
Invest in Search Engine Optimization for Website Traffic
We can not emphasize this enough: search engine optimization is the key to improving the organic traffic to your website! Search engine optimization, or SEO, helps your website rank in the top results of a search engine. When an individual searches for the products or services you offer, the search engine uses various factors such as keywords, optimized images, and other behind-the-scenes features to rank your website.
In a recent study performed by Hubspot on 2020 Marketing Trends, researchers found that around 64% of marketers utilize search engine optimization to boost their business's rankings in applicable searches. 
Although SEO provides astounding results, especially in local searches, it does take a certain level of skill and expertise. Search engines are constantly adjusting their algorithms. You must stay on top of the latest trends to have success in this area. For this reason, most businesses choose to outsource this task to an experienced SEO agency.
Consider Incorporating Google Ads Into Your Marketing Plan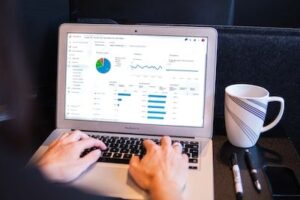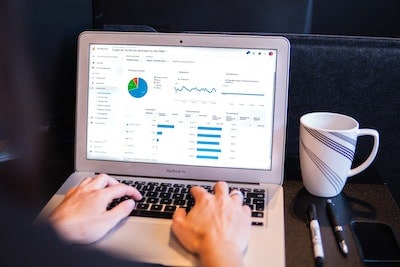 As a small business owner, you are likely searching for the most effective online marketing tactics that don't cost a small fortune. For this reason, as well as others, many small business owners consider Google Ads to be highly beneficial! 
Google Ads, formerly Google AdWords, allow you to pinpoint a niche audience using specific keywords. As a pay-per-click advertising platform, you only pay for guaranteed clicks on your site. Google Ads provide nearly instant results for business owners in every field. 
You can learn more about why Google Ads are worth the investment for small businesses here.
Provide Value to Your Community By Solving a Problem
Of course, these are just a few of the many online marketing tactics that businesses are using in 2021. With any area of your business, you must seek to provide value to your community by solving a problem. In this way, you will see the greatest results in the area of online marketing.
Launch Your 2021 Online Marketing Strategy Now! 
Are you ready to implement a 2021 online marketing strategy that will help your business reach new heights? Schedule your free online marketing strategy session today!