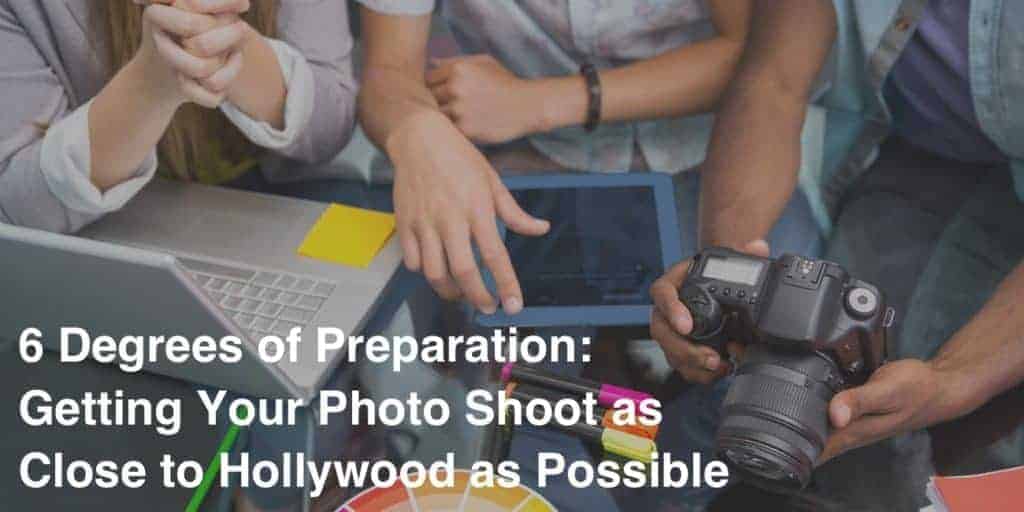 05 Nov

6 Degrees of Preparation: Getting Your Photo Shoot as Close to Hollywood as Possible
…Kevin Bacon?
I played a game with friends a few times called "Six Degrees of Kevin Bacon." It was based on the "six degrees of separation" theory, which states that every living person is separated by no more than six relational steps. This, of course, includes famous people like, for instance, Kevin Bacon (ok, maybe formerly famous). So you'd sit around and try to think of people you knew, who knew other people…etc. through up to six steps until you reached someone famous. I think the appeal was that it made us all feel a little bit closer to Hollywood.
Your Business Photo Shoot
Well, feeling a little closer to a Hollywood icon (or former icon, as the case may be) might be fun, but it probably won't help you in your business. However, when it comes to your business photo shoots, you want them to look as much like Hollywood as possible. In our experience shooting video and still photography for businesses, there happen to be six important steps to prepare for your best possible results. So we call these our "six degrees of preparation" for your business photo shoot.
1. Prepare Your Wardrobe
One of the simplest ways to enhance the quality of your shoot is to carefully plan what all the subjects will wear. Ignoring this can have a seriously negative impact on your finished product. You want to represent yourself in the best possible way, and clothing is very important to the overall tone and quality of your shoot. Here are some tips.
Wear ONLY solid colors.
Choose neutral, muted, or subdued colors.
Do NOT wear green.
Coordinate colors and styles with other subjects.
Coordinate colors with your background.
Make sure the style of your wardrobe matches the impression you want to create.
Remember the shoes. Bright pink sneakers are probably not going to work.
2. Prepare Your Hair
Hair is another important consideration. Of course, photos can be edited, but this takes time. Save time and expense by following some simple guidelines for hair.
Wear hairstyles that fit the desired overall tone and impression of your shoot. If your office is super casual, some subjects may want to upgrade. Just make sure they don't go too far. If someone feels very unnatural, it will be noticeable.
Wear more or less normal hairstyles. Again, it's important that everyone is as comfortable as possible.
If some of your subjects have wild or brightly colored hair, you may want to ask them to make a change. This may be sensitive for some, but let them know it's temporary!
Haircuts or style changes should be scheduled about two weeks before your shoot. Haircuts and styles rarely look their best the first few days out of the salon.
3. Prepare Your Environment
If your shoot will take place in an office, you may need to schedule a special cleaning day. The camera will pick up every speck of dust on shelves, plants, etc. in your background. Your photographer should visit the site and help you plan what areas will be shot. Pay special attention to those areas, but to allow for spontaneity, you probably want to do a thorough cleaning of every area where the camera might be.
If you will use a backdrop, make sure you have plenty of space. Talk with your photographer in advance and make the necessary adjustments before they arrive if needed.
Maybe your office has a face for radio. Many very successful businesses have office spaces that aren't particularly photogenic. In this case, you may want to choose another location. Talk with your photographer about where this might take place. Once a location is chosen, make sure it is clean and prepared as well.
4. Prepare Permission
You will need to make sure you have the proper release forms signed by all subjects in your shoot. Your photographer should provide all the necessary forms for you, but you should know the guidelines yourself. Here is a link to important info on our site to help you be prepared for the legal side of things.
5. Prepare Your Story
Yes, your photo shoot is a story. You have a specific message you want to communicate, or you wouldn't be investing in a photo or video shoot. Discuss this in detail with your photographer and plan out all your shots. Compile a specific list of shots you want to get that tell the story you want to tell. This effort will save you time, money, and dramatically improve your overall results.
6. Prepare For Business
You may or may not want to schedule your shoot during regular business hours. This can be an important part of your plan since it will impact factors like background noise, background movement, and the availability of your subjects. Discuss this in advance with your photographer.
Professional Results
Taking these important steps before your shoot will save you time and money. In addition, advance preparation in as many areas as possible will make your shoot much less stressful and much more enjoyable. This ensures that you get the professional results you want, and make your message come across with clarity and impact.
At McWilliams Media in Tulsa, Oklahoma, we specialize in telling your story. Our professional photographers will work with you to plan, prepare, and execute a photo shoot that tells your story in the most powerful way possible. Contact us today to schedule a free consultation.