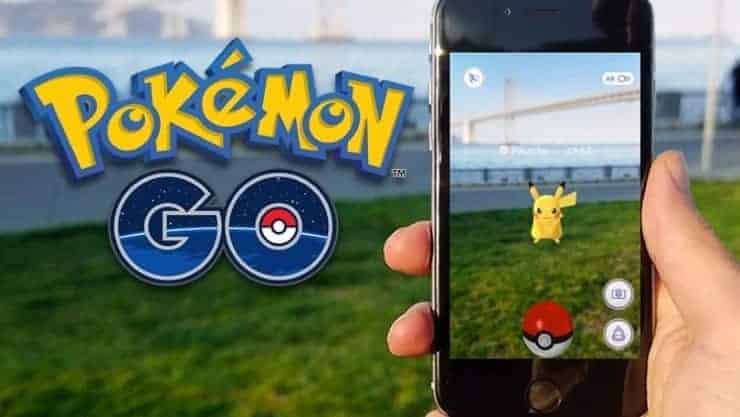 08 Aug

How Pokemon Go Works With Your Business
Pokémon Go
If you've left your house over the past few weeks, you're sure to have noticed the large groups of people clustered around random fountains, businesses, and parks with their eyes glued to their phones.
These curious gatherings are a result of the newest fad: Pokémon GO. Already the most downloaded app in U.S. history, this game has captured the hearts and minds of people of all ages and walks of life.
Simply put, Pokémon GO is a smartphone game that uses the GPS and clock on your phone to detect your location and match it to your progress in the downloadable game. If there's a Pokémon character hidden somewhere in your location, it will show up on your phone. The more you search and move around, the more game characters you will find; in a way, true reality and virtual reality are colliding.
Players are alerted by their phones when a Pokémon is nearby, at which point the player takes aim on their touchscreen and attempts to catch the creature by throwing a "PokéBall" at it. The main object of the game is to catch all 150 Pokémon, which is a much harder task than it sounds.
This addicting smartphone game that has taken the U.S. by storm is not only exhilarating for its players, but it could also be beneficial to your business.
How It Works
Pokémon GO is driving tens of of millions of players to get out and visit local parks and businesses that they might not have before. This is good news for you as a business owner.
There's a way to flood certain businesses with these creatures with an in-game purchase called a "lure"; this allows users to see that your business is a verified hot spot and urges them to come in to partake in the catching craze, all the while promoting your place of business.
Attracting these new waves of customers can be relatively affordable as well. Most lures can be as little as $1.19 an hour, but at most you'll pay $.99 for half an hour. A small price to pay for what could be a whole new customer field.
Who Can Participate
Unfortunately, only businesses featured in the game are able to participate. But, there are a couple different ways your business can appear within the game, and here's a few.
1. As a PokéStop: it is ideal to have your business either be a PokéStop, or to have one very close by. These "stops" are where players can restock on supplies in the game as often as every five minutes.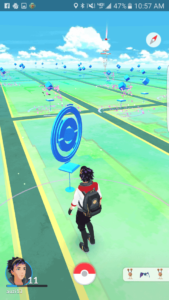 2. As a Gym: these are the training facilities for players. While at first they may not seem very popular, they are likely to pull in a steady crown over time.
PokéStops are particularly exciting, because these are the only locations where lures can be dropped. There isn't yet a map of PokéStops or gyms, but you can easily download the game and check the areas around your business to see what opportunities await!
How to Gain Customers
If you do happen to have a PokéStop nearby your business, it may be worth it to invest in a few lures and see how well the tactic works in drawing customers to your establishment.
However, lures may be purchased by other businesses in your area to keep customers in their stores. It's smart to put out a sign of some sort advertising what you're doing, and any current specials for players.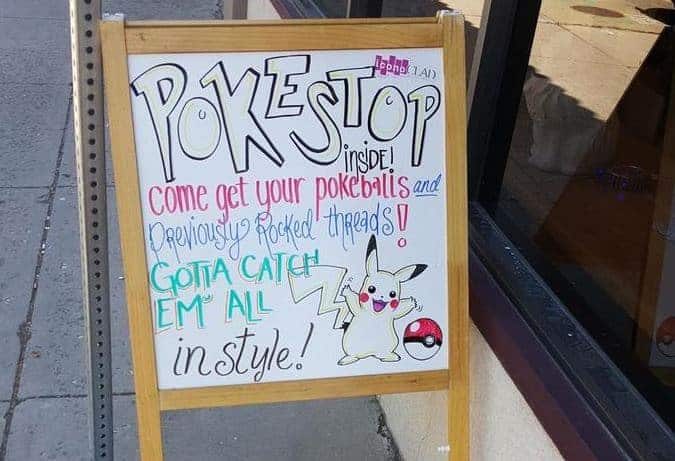 If you're featured as a gym, not a PokéStop, you likely won't have the same volume of players coming by, but you will probably have rival team members coming by to stake their claim and maintain control of the gym. Signs offering discounts or specials offers to whichever team is currently in control of the gym is a great way to draw in that team's players, and gives incentive for rival teams to win over your gym.
Even if your business isn't featured in the game, there are still great opportunities to take advantage of this new craze! Offer discounts to players who have caught a certain Pokémon, or a certain number of Pokémon. With a little creativity and work, this new game that has taken the nation by storm offers the potential to bring in customers and make your business money!

While the maker of the game hasn't yet announced a way for businesses to become featured in the game as a PokéStop or a gym, there has been overwhelming interest in the subject. Although this trend may not last forever, you can definitely make the most out of the next few weeks, or months. Work hard to win over those Pokémon buffs you do bring in, and keep their business long after this fad fades away. There's no better way to put it than the popular game's slogan itself: "gotta' catch 'em all!".