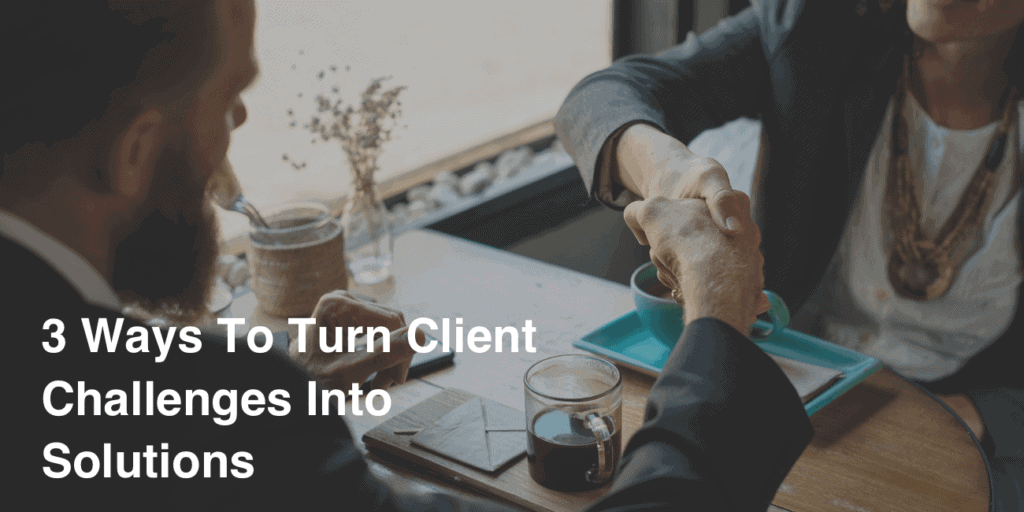 22 Nov

3 Ways To Turn Client Challenges Into Solutions

You are a solution maker! Everyday you get to solve problems by creating solutions that generate value for the people you serve. Every pain point is an opportunity to unlock hidden value for your clients. So, you are in the problem solving and value creating business; no matter what you do as a profession. Agree? Here are 3 ways you can collaborate with our clients and turn challenges into solutions.
3 Ways To Turn Challenges Into Solutions
1. Come from a place of SERVING not selling
Selling isn't doing something to someone, it is doing something for someone and with someone. If your clients know you are in their corner trying to create solutions with them, then you will gain a client for life.
2. Be CARING and TRANSPARENT
Building from #1, as we serve our clients, we need to care so much that we understand our client with a firm knowledge that we can see and develop what they need. This must be transparent in our motive and actions.
3. Learn to ASK correct questions
To continue to build on #1 and #2, we must learn to ask our clients the correct questions. We must learn to be expert question askers although the questions may be tough. If we have have established #1 and #2, the foundation is there to ask. This is a foundational key, because if we learn to ask the correct questions, it will unlock answers we (us and client) need to best serve each other. This action completes the circle; asking correct questions demonstrates our heart to serve and it displays caring and transparency.
We are solution makers! Serve, be caring and be transparent, and learn to ask questions. This is a circle of trust and each action must be completed with a pure motive to truly create value for our clients by solving their challenges.
Do you have a challenge in your marketing that need a custom solution? Call us anytime to share your challenge and we'll walk through what it will take to make your solutions a reality!