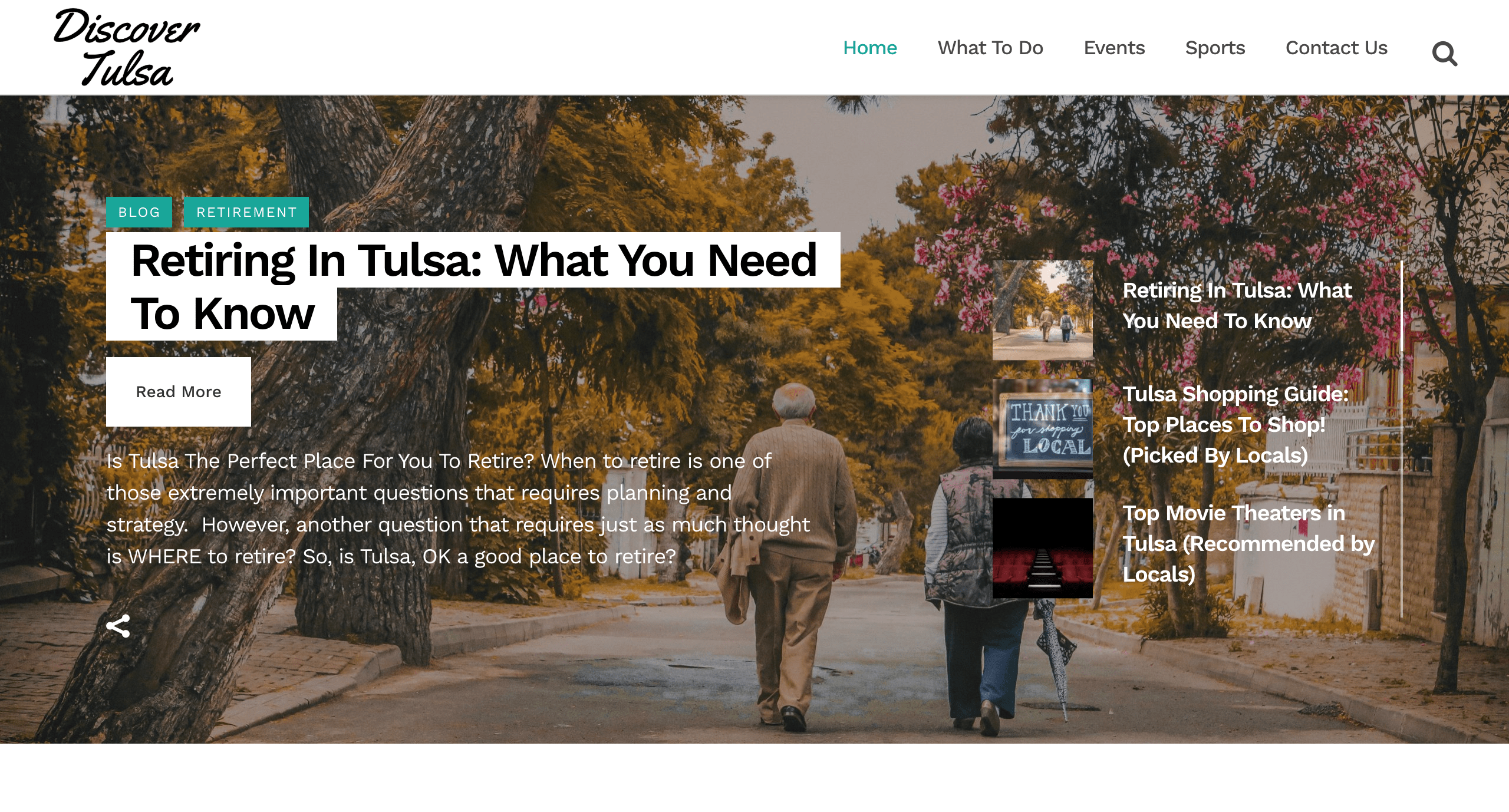 07 Feb

Discover Tulsa | Featured Business
About Discover Tulsa
Discover Tulsa is your hub to connect with Tulsa businesses, stay up to date with local events and find out where to go in Tulsa. From shopping center and restaurant recommendations to upcoming sports schedules, Discover Tulsa guides visitors and locals alike around the bustling city. Additionally, local business owners have the opportunity to feature their businesses on the Discover Tulsa website. Learn more about what makes Tulsa the hidden gem of the Midwest with Discover Tulsa!
What Sets Discover Tulsa Apart
With a population of over 400,000 people and extending across 186 square miles, Tulsa is the little big city of Oklahoma buzzing with things to see and do. Unlike other local guides, Discover Tulsa dives into the heart of the city to curate an up-to-date and in-depth catalogue for visitors to discover Tulsa natives' favorite places to eat, drink, shop and find entertainment suitable for the whole family. Spend the afternoon at the vibrant and engaging Gathering Place Riverfront Park, fittingly named America's Best New Attraction by USA Today! Or take a break from the sun and head indoors to the family favorite Discovery Lab at Tulsa Children's Museum. Whatever the season, there is never a dull moment to visit Tulsa. Once you've experienced everything that this city has to offer, you may even find that you want to move to Tulsa.
Additionally, Discover Tulsa is not only for those passing through. Tulsa natives can also uncover the hidden gems and opportunities that make this city so unique. If you're looking for event venues for a wedding, birthday party, or corporate event, Discover Tulsa shares the Top 10 Tulsa Event Venues chosen by Tulsans themselves to help narrow down your search. Or, are you an upcoming entrepreneur aspiring to start your business? Discover Tulsa offers a step by step guide to starting a business in Tulsa. The wonderful people that make up Tulsa's local communities are one of many reasons why locals choose to stay and call Tulsa home.
Services
Do you know about any other Tulsa area events or businesses that you think should be promoted? Discover Tulsa is open to suggestions and offers local business owners the ability to be feature their companies on their website. Simply send a message to Discover Tulsa to let them know what you would like to see featured.
Business Information
Learn more about Discover Tulsa
Website: https://discovertulsa.net/
Contact page: https://discovertulsa.net/contact-us/
Email: [email protected]
Discover Tulsa is a website designed by McWilliams Media located at 755 W New Orleans St Suite B Broken Arrow, OK 74011