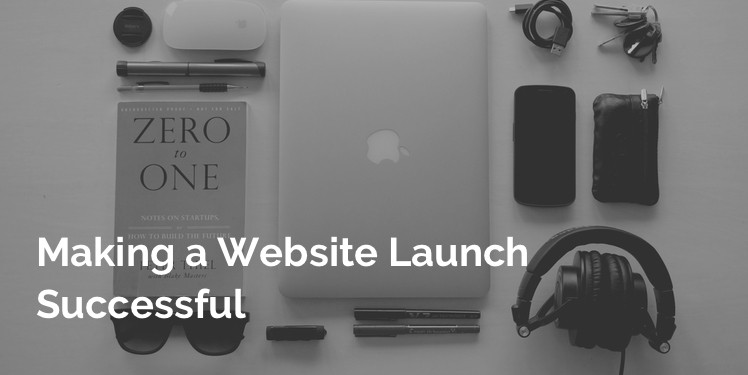 15 Sep

Making A Website Launch Successful

Success is something that we all strive for, and even more so when it is something that we personally create. No one wants to see their products sitting on the shelves untouched, or their painting being passed by without a second glance. The same is true with websites.

Creating a website can be challenging and time-consuming; no one wants their hard work to go to waste because of a fruitless launch. With the internet becoming the new norm for advertising and outreach, the world of websites is becoming increasingly more competitive daily.

Don't let your hard work go to waste – there are plenty of preemptive steps that are easy to take to help your website get a leg up on the ever growing competition.
HAVE A LAUNCH PLAN
Although having a launch plan isn't essential, it could help you make some extra noise that you wouldn't have other wise. When you launch a site, you most often put your biggest and best out there, right?
Don't let that amazing content go unseen – spend some time before your launch working out a plan that guarantees high traffic rates for your site. Make sure everyone on your team is on the same page and doing everything possible to maximize the potential for your site.
Think of your launch as a huge event: a grand opening, the first game of the season, the opening night of a headlining tour. Your business is in the spotlight and everyone is there to see it and experience it.
Here are a few pre-launch tips to help your site get off to a flawless start:
PRE-LAUNCH
Intentional Content
Of course all of the content on your site should be high-quality work that portrays your business, but there should also be one big, over the top piece that has promise to go viral. This will be your go-to post and will kick-start viewing on your site.
Along with your viral piece, it is important to have additional posts live on your site the day you launch. You don't want to leave your readers hanging after they get a taste of your viral piece; have a few other interesting posts and media available for them to look at after you catch their initial attention.
Code Freeze Date
A code freeze date is a set day that you and your team stop touching the site. This date needs to be, at minimum, three days before your major launch and needs to be non-negotiable.
After this date there will be no more minor issues fixes, no newer features added, no more tweaks, not even bug fixes. Post-launch fixes should be planned, but having a code freeze date will get everyone's hands off of the site days before the launch.
Having a "due date" that isn't the launch date allows for the launch date to be completely focused on promoting the site and for getting it up and out there.
Soft Launch
Soft-launching means launching your site without any formal declaration via email, social media, or any other outlet.
Soft-launching allows you to test your site; it gives you time to iron out little issues and fix last minute problems. The first few users that view your site during a soft launch could bring your attention to small things such as misspellings, or even minor page defects. This soft launch should still take place before your code freeze date.
Teaser Page
People love being in the know about things before anyone else does. You can create this "inside knowledge" of your website by launching a teaser page before your actual launch date.
On your teaser page, let your audience know what you're doing, but be vague enough to leave them wanting to know more. Take down email addresses with the promise of letting them know first when your website goes live. A teaser page can build anticipation and get your audience excited about your website before it even officially launches.
POST-LAUNCH
Post-launch strategies for your website are just as important as pre-launch; don't leave your website to fend for itself. There are several things you can do to extend the life of that initial launch hype.
Email the list you already have. Get in contact with your loyal and true audience; brag on the success of the launch and express your excitement for what is to come in the future. Leave them with something to look forward to so they don't lose interest after the initial launch hype is gone.
A lot went into launching your website, and a lot of people were involved throughout the process. Make sure to give thanks where necessary; whether that is to your team, your audience, or means of advertisement, make sure to express your gratitude and keep those important relationships strong.
Above all else, keep posting content!
Don't have a lax attitude in regards to your site, thinking that just because your site launch was a success that momentum will carry it into eternity. Your audience is going to continue to want bigger and better, and it's your responsibility to give it to them.
You have your solid foundation, now continue to build on it.
Website success is well within your reach; the key is to create quality work and prepare a logical and effective plan. These simple steps take very little time or effort initially, but could be the reason that your website becomes an overnight success!
So we are curious. Did you have a launch plan in place for your new site?