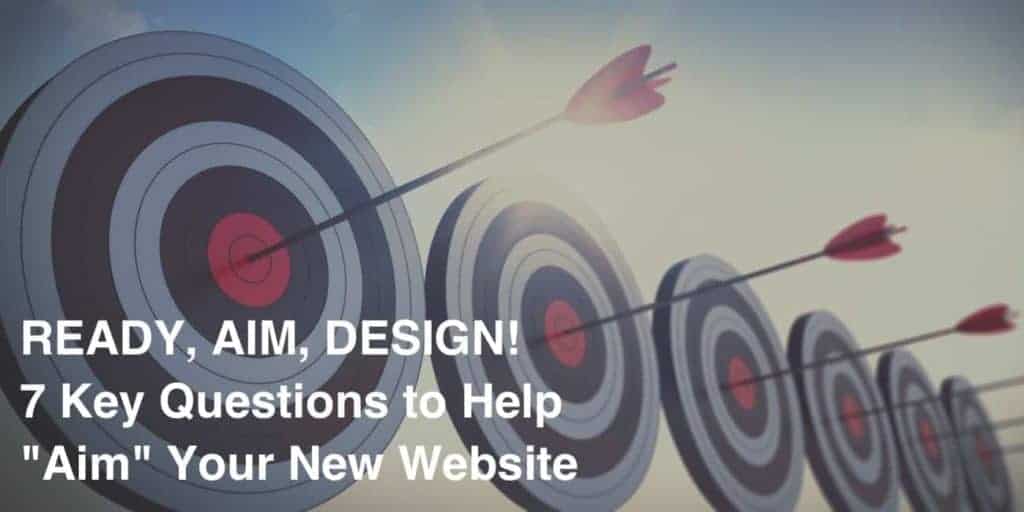 16 Jul

Ready, Aim, Design! 7 Key Questions to Help "Aim" Your New Website
"If you aim at nothing, you'll hit it every time."
If you've experienced any business training or been to a motivational event in the past 30 years or so, you've probably heard some version of this quote. It's attributed to Zig Ziglar, sales guru and master of quips and one-liners. And I don't think there's anything truer when it comes to website design.
Above all, you must have a clear target when you put your business online. Gone are the days when just putting your name on Main Street or even an Interstate billboard was enough to set you apart. Those things can help, but once your customers are online, the "billboards" are way too numerous. And if you're lucky (or skilled) enough to get them to your site, your competition, often global, is just a few clicks away at any moment.
How to aim well.
In order to make your website attract your customers and keep them, you have to aim. And you have to aim well. But taking aim is not as simple as it sounds. That's why professional web design is essential. But in order to make professional web design do its best for you, there are some essential questions you must answer for yourself.
Actually, a really good designer will help you answer these questions. And at McWilliams Media in Broken Arrow, we can help you through this process. But as you'll see, these are essential business questions that can take serious time to answer.
So we've compiled our top 7 here to give you a huge head start. Take time to answer all these questions before that first design meeting. You'll be miles ahead of the curve, confident that you'll come away with a plan that really works for your business.
1. What does your business really do?
I know, that can sound way too simple, but answer it anyway. And don't throw it away. Talk with your team and some key customers. Turn it into a discussion and keep an open mind. Others may see things you don't see.
And of course, the other part of this is that you have to explain the answer clearly to your web design team. And you don't want any room for misunderstanding. You know your business better than anyone, so put down in writing the clearest definition you can come up with.
2. What makes your company remarkable?
This is one to talk to your team about, but especially to your customers. Why do they choose you over the competition? What is it that they like about you? What is it that keeps them coming back?
In addition, this speaks to your identity as a company. What do you do best and why is that better than your competition?
3. Who are your competitors?
Who have you lost customers to (ouch!)? And who have you won customers from? Take the time to find out who and why. You may know the answer to these questions, but you may not.
And even if you think you know, do some research. If you haven't already done so, look at the global market. Many local businesses now have global competition online.
Look carefully at these companies and read their reviews. Don't just find out who they are but how you stack up against them. Knowledge is power.
4. Who are your customers and what are their pain points?
This may be the most important question of all. And not just for your website, but for your business as a whole. You need to know who you are speaking to. And you need to know what they want and need from you.
So take time to think about who your customers are, and even what your ideal customer would look like? If you could "design" a super-customer, who would that be? What would he or she be involved in? What would their income level, profession, place in life be?
Knowing your customers will make designing your website much more effective. Designing a site without knowing who your customers are is like buying birthday presents for people you've never met. You can give them cash, but anyone can do that. You don't want to give your customers a "gift" they could've gotten from just anyone.
What if your customers could feel as if your site was designed specifically with them in mind? Well, that's actually what you're doing IF you know your customers. You want your site visitors to "feel at home" on your site. So get to know them. The better you know them, the better your site will be.
5. What do you want your website to accomplish?
Again, this can seem so simple. You want your site to make you more money, right? Of course! But in order to do that, you need to have specific goals for your site. Is it an online store, or is it meant to get people to click or call in?
Another way to look at this is to define "wins" for your site? What is a small win? A visit? A call-in? What's a big win? This way of thinking can help you visualize what you want your customer to do on your site, and what you want your site to do for them.
Here are some examples of "wins" for different sites:
Collecting an inbound lead
Getting a quote request
Getting a phone inquiry
Increasing brand awareness
Educating your audience (Watching your videos, reading pages, etc.)
Producing sales
Collecting email addresses
Getting social media likes, shares, comments, etc.
And remember, it's easy to say, "Yes, please! I want all of that!" But a site that does everything is usually a site that does nothing. The intention of this question is to help you aim. And to aim well usually means to narrow your goals, not expand them. Decide what's most important and do it well.
6. What about your current site (if you have one)?
It's a great idea for both you and the designer to make a thorough evaluation of your current site. First, for you. You need to think about what you like and what you don't. Again, talk to team members and key customers about this as well.
And here's a tip on talking to customers about any of this: ask customers from different generations the same questions. Especially if your target customers are multi-generational. You'll get different answers and it will help you know how to proceed.
Questions to answer include:
How long have you had this site?
Do your customers find it easy to use?
Do you find it easy to edit?
Which CMS (Content Management System) does it use (if any)?
What do you like about it?
What do you NOT like about it?
Is it giving you the results you want to see?
In addition to these questions, if you have Google Analytics setup, you generate a report for us so we can see what's working and what's not. In a nutshell, this gives us the wisdom of your past. We want to make sure we design a site for you that is clearly better than what you've had.
7. What websites do you like (or dislike) and why?
Once you answer all the other questions, it's time to answer the one you might have thought to begin with. But if you begin with this, it could mean trouble. Don't just show your designer a site and say "I want one of these." You might end up with something very different from what you wanted in the end.
But once you know who you are, who your customers are, and what you really want out of your site, this can be really helpful. This is the "show" part of the show-and-tell process. We all need to communicate in pictures as well as words. And this can be the most fun as well.
Now that we know your business and your goals, browsing through your favorite (and least favorite) sites is a powerful tool for clarifying communication between you and your designer. You say, "I want this or that," and your designer can say, "of course! we can do this or that with this or that."
Ready, aim, go!
Armed with the answers to these crucial questions, you and your designer can go away from your initial meeting with a pretty clear picture of what you want. You can be confident that you're aiming at what you want to hit. And you'll be miles ahead of the DIY masses online who really aren't aiming at all.
At McWilliams Media in Broken Arrow & Tulsa, we are experts at web design and all aspects of digital media. Our team can help you know your business, know your customers, and know that your new website will help your business grow. For a free consultation on your web design and digital media needs, contact McWilliams Media today!
Image Copyright: <a href="https://www.123rf.com/profile_alphaspirit">alphaspirit / 123RF Stock Photo</a>