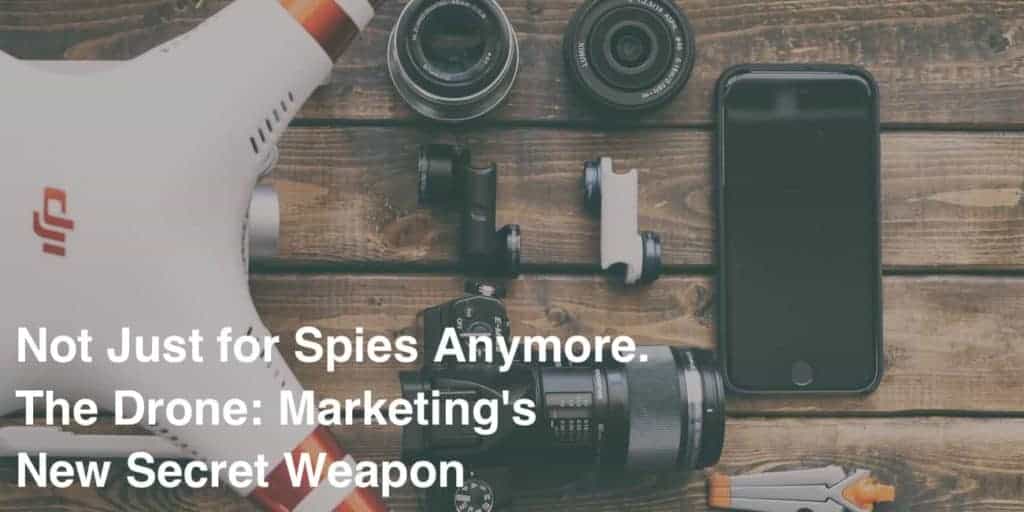 18 Sep

Not Just For Spies Anymore. The Drone: Marketing's New Secret Weapon
The Buzz
Drones are creating quite the buzz these days–literally and figuratively. Because they can capture such stunning content, they are becoming the tool of choice for many photographers and videographers. First seen mostly in genres like extreme sports and action film, drones have now brought their very specialized set of skills into the business world.
Smart business owners and entrepreneurs recognize the immense value of compelling video and photo content in marketing themselves and their products. Now, through the use of drones, the value of that content can literally take off! Here's why drones are the new secret weapon of effective marketing.
1. Aerial Perspective
The most obvious value of drones is that these little guys can fly. Aerial video and photography have an impact that nothing else does. You now have the ability to give your customers a unique and powerful perspective on your business and products. You can literally fly your audience down your street and into your front door.
2. Endless Angles
Flying high isn't their only skill. Since they are so small and agile, drones can shoot from almost any perspective you can imagine. Shoot from underneath tables, fly through hallways, windows, or tunnels. Outdoors and indoors as well, the possibilities are almost endless.
3. Exceptional Quality
As camera technology advances, video quality elevates. Drones now shoot video in full HD and even 4k resolutions. This means that even at significant heights and distances, your image is clear and crisp.
With image stabilization, the camera movements in drone videos can be smooth and seamless. This takes a level of skill, of course. Make sure you hire a skilled and experienced videographer to produce your marketing videos.
4. Limitless Applications
If you own a business, I'm sure you're already dreaming about your next drone video. We have lots of ideas as well. Here are just a few examples of how we're using drones to create impact for our customers.
5. Emotional Impact
Most of all, videographers use drones because of the emotional impact they can produce. All the tricks and creative ideas have a purpose. That purpose is to move people. This is especially true in marketing.
Marketing is first and foremost about impact. The goal is always to deliver a message that connects with people and moves them to act. Drones can help create the emotional impact that gives your marketing content the power to do just that.
6. Unforgettable Content
Like it or not, marketing is more than just storytelling. Marketing is a competition. Whatever your business, you need messages that help you stand out from the crowd. Just having the right information isn't enough. You need content your audience literally can't forget.
This is why drones are such a valuable tool. With the right creative team behind it, a drone can be the key to making your marketing content sparkle. Whether it's video, still photography, or both, the drone can make your content unforgettable.
7. Brand Power
If there's one thing business owners want for their businesses, it's brand power. You want people to remember you and think about you first. Lots of things go into creating brand power. You have to do an exceptional job at what you do, have integrity, and maintain good customer relationships.
Once you have those things in place, effective marketing is the next step in empowering your brand, and drones can play an important role in that. Through video and photography with creative perspectives, exceptional quality, and emotional impact, your content can be powerful and memorable.
At McWilliams Media in Tulsa, Oklahoma, we specialize in brand power. Through web design, branding, social media, and professional photography and videography, we help you build your dream. Contact us today and let us show you how drone video and photography can be your new marketing secret weapon!